Children's Toothpaste & Toothbrushes
Los miembros de CarePass
TM
Mostrando 1-20 de
47 productos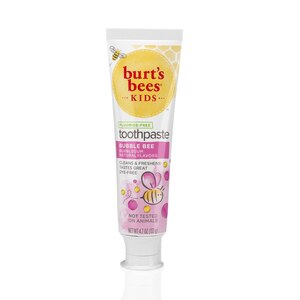 Burt's Bees Kids Toothpaste, Natural Flavor, Fluoride Free, Bubble Bee, 4.7 OZ
Burt's Bees
Envío gratis con pedidos de $35 o más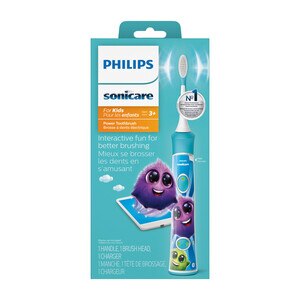 Philips Sonicare Electric Toothbrush for Kids, Advanced Sonic Technology, Aqua
Philips Sonicare
Envío gratis con pedidos de $35 o más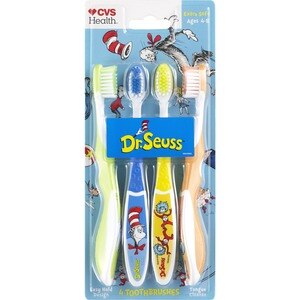 CVS Health - Cepillo de dientes para niños,  4 u.
CVS Health
Compre 1, lleve 1 al 50% - ¡Agregue 2 o más para recibir la oferta!
o
en pedidos de $35 o más.
CVS Health - Enjuague bucal anticaries con flúor, para niños, 16 oz
CVS Health
Compre 1, lleve 1 al 50% - ¡Agregue 2 o más para recibir la oferta!
o
en pedidos de $35 o más.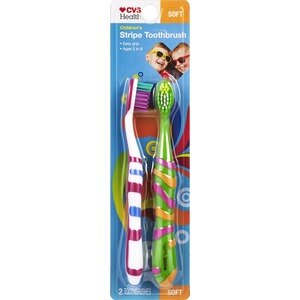 CVS Health Kids Designer Stripe Easy Grip - Cepillo dental, para 3-8 años, suave
CVS Health
Compre 1, lleve 1 al 50% - ¡Agregue 2 o más para recibir la oferta!
o
en pedidos de $35 o más.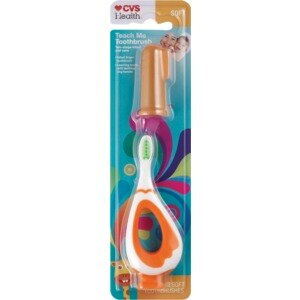 CVS Health Teach Me - Cepillo dental, suave
CVS Health
Compre 1, lleve 1 al 50% - ¡Agregue 2 o más para recibir la oferta!
o
en pedidos de $35 o más.
Los precios en línea puede ser diferentes a los precios en tiendas.
What are the Best Children's Toothpaste & Toothbrushes Brands?
Does CVS Sell Kids Toothpaste?
Yes, CVS sells a variety of Kids Toothpaste in stores and online.
Does Children's Toothpaste Contain Fluoride?
Fluoride is a natural chemical that can be found in rocks, soil, water, air, and some plants. It is commonly found in the products we use for good oral health, especially toothpaste. It helps teeth by slowing down the breakdown of your tooth enamel, preventing tooth decay and producing stronger enamel that is more resistant to cavity-causing acids. The safety of fluoride in children's toothpaste has been brought to question. Children are more likely to swallow toothpaste, and fluoride should not be swallowed in significant quantities. You can find fluoride in some children's toothpaste, but it will contain less than adult toothpaste to help prevent children from getting too much.
What is Different About Children's Toothpaste?
There are some big differences between children's toothpaste and adults' toothpaste. Some of these are:
Flavors: Many children's toothpastes come in fruity flavors or bubblegum flavor, as opposed to the strong flavors found in adult toothpaste.

Branding: Many brands will use favorite kids' characters to help encourage children to brush more.

Dispensers: These make it easier for small hands to use.

Fluoride: As discussed, there is less, if any, fluoride in children's toothpaste.
What Toothpaste Is Safe For Children?
There are a variety of toothpaste options available for children. Keeping in mind that babies and children tend to swallow toothpaste, you want something safe for your child. There are some ingredients you want to avoid when choosing a toothpaste for your child:
Surfactants

Arcilla

Synthetic dyes

Ethoxylated ingredients

Quaternary ammonium compounds (Quats)

Preservatives, including parabens
You also want to be careful when it comes to flavors. Many times, these flavorings contain emulsifiers, solvents, and flavor modifiers.
Does CVS Deliver Kids Toothpaste?
Yes, CVS offers free fast shipping on Kids Toothpaste orders over $35. Most orders are delivered within 1-4 days.
Is Kids Toothpaste Available For Same Day Pickup?
Kids Toothpaste are available for same day pickup at most locations, check your local stores availability and add to cart to pick up today.
How To Save On Kids Toothpaste from CVS
Join CarePass today to save on Kids Toothpaste products. Enjoy great offers and deals when you sign up. Check the weekly deals and download the CVS App today for exclusive coupons!
Kids' Oral Care
It's never too early to start thinking about your child's teeth and gums. Starting on a healthy dental care regimen at an early age can set children up for better oral health throughout their lives and teach them the important habit of properly caring for their smiles. CVS has everything that you need for your child's oral care routine with toothbrushes, toothpaste, floss and rises for kids of all ages. Shop the selection now and have your child's oral care products delivered right to your door.
Oral Care For Kids
Experts recommend starting oral care within the first few days of a child's life. You can start by simply wiping your child's gums with a gauze pad or washcloth. First baby teeth generally emerge between 6 and 12 months, and you can begin brushing them right away with a baby toothbrush. Once children reach three to six years of age, they are typically ready to begin using toothpaste and to start brushing on their own with your supervision. Your child's dentist can provide you with specific advice about how to care for your child's teeth and what products are best for him or her to use.
Best Toothbrush For Kids
Kids Toothbrusheslook similar to toothbrushes designed for adults except they are smaller in size. To find the best option for your child, start by considering bristle type. Most kids' toothbrushes have soft to medium bristles, and your dentist can help you decide which type is right for your little one. You can also compare the handles of the toothbrushes. Some products have special grips that make them easier for children to use. To make oral care more fun, you can select a toothbrush in a color or with a design that appeals to your child.
Best Toothpaste For Kids
For kids, it's generally best to use a toothpaste designed specifically for children. Training toothpastes are available for toddlers and feature safe ingredients that are not harmful if swallowed. For older children, toothpastes come in a wide range of flavors. Many products feature playful packaging that appeals to kids.
Childrens' Mouthwash
Your child's dentist may recommend that he or she use a rinse after brushing to promote oral health. Kids' mouth rinses typically contain fluoride, a mineral that helps to strengthen the dental enamel. Using a fluoride rinse after brushing can reduce the risk of tooth decay and cavities.
Búsquedas relacionadas
colgate, baby toothbrush, baby toothpaste,  toothpaste without fluoride, organic toothpaste, toothpaste for sensitive teeth