Cepillos dentales eléctricos
Cómo conseguirlo
Recogida no disponible
Cambiar tienda
Los miembros de CarePass
TM
Mostrando 61-65 de
65 productos
Cepillos dentales eléctricos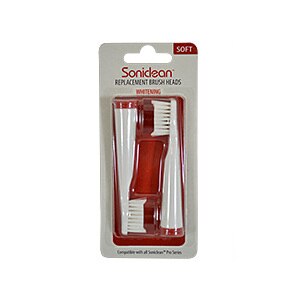 CVS Health Replacement Brush Heads, 2CT
CVS Health
Compre 1, lleve 1 al 50% - ¡Agregue 2 o más para recibir la oferta!
Los precios en línea puede ser diferentes a los precios en tiendas.
Power Toothbrush
Looking for a way to make your oral care routine simpler? An electric toothbrush can simplify brushing and help you take the best possible care of your teeth. CVS can help you find the best electric toothbrush for your oral care needs. In this online product selection, you'll find a number of different models that you can compare. From brands like Philips Sonicare y Oral B to various toothbrush heads, travel electric toothbrush, and more! Once you have found the right option, you can complete your purchase and have your new toothbrush shipped to your home.
Electric Toothbrush Benefits
Studies have found that manual toothbrushes are as effective as electric toothbrushes when used correctly. The problem is that many people find it difficult to use a proper brushing technique. Electric toothbrushes can make it easier to thoroughly brush and may improve your oral health if you struggle with brushing. These products are especially ideal for people with limited mobility or arthritis. Most electric tooth brushes come with a charger so you can easily charge your electric toothbrush and there are also a variety of electric toothbrush heads to choose from.
Disposable Electric Toothbrushes
If you're looking for a simple, inexpensive electric toothbrush, a disposable option is an excellent choice. These products have a self-contained battery that will last through a certain number of uses. When the battery power is depleted, you simply throw away the entire brush and purchase a new one. Disposable electric toothbrushes are generally smaller in size than other options and is a nice option as a travel electric toothbrush.
Reusable Power Toothbrush Heads
Higher end electric toothbrushes are typically reusable. Most of these power toothbrushes have removable heads that you replace periodically to keep the dental appliance working like new. Some reusable toothbrushes use standard disposable batteries. Others have rechargeable batteries that never require replacing. With these models, the toothbrush either plugs directly into the wall or rests on a base that plugs into the wall.
As you shop for electric toothbrushes, you can pay attention to the special features of the products. Some models offer more than one speed of use, allowing you to customize performance. You can also find power toothbrushes that let you know when you have brushed for the amount of time recommended by experts.
Best Electric Toothbrush
Talk to your dentist about your oral care concerns before investing in a power toothbrush. He or she can give you advice about how to choose the best option for your needs and may even recommend a specific brand or model for you. Once you have received your new electric toothbrush, take the time to read the directions for use included with the product. Following these instructions will help you get the most out of your power toothbrush.
Electric Toothbrush for Sensitive Teeth
There are some qualities in choosing an electric toothbrush for sensitive teeth. The toothbrush should have:
Multiple brushing modes

Different intensity settings

Adaptive head
Recommended electric toothbrushes brands for sensitive teeth are:
Philip Sonicare ProtectiveClean 5100 Rechargeable Toothbrush

Philip Sonicare 4100 Electric Toothbrush
What are the Best Electric Toothbrushes Brands?
Which Electric Toothbrush is Best for Receding Gums?
If you have receding gums, the dentist will recommend purchasing an electric toothbrush. The qualities to look for in an electric toothbrush for receding gums include:
Soft toothbrush head

Different speeds

Have a setting for gum care
The recommended electric toothbrushes for receding gums are:
WaterPik Complete Care WaterFlosser + Toothbrush

Phillips Sonicare ProtectiveClean 5100 Rechargeable Toothbrush
How to Brush with Electric Toothbrush
When brushing with an electric toothbrush, pressing hard is not needed. The goal is to simply guide the brush along the teeth while it provides the brushing action. Some electric toothbrushes have sensors that will notify the user when too much pressure is exerted on the tooth.
Start with the outside surface of the teeth. 

Guide the head of the brush slowly from one tooth to the next and hold the head of the brush for a few seconds against the tooth.

Follow the shape of the tooth.

Use the same motion on the inside surface of the teeth and move to the chewing surfaces.

Next, go along the gum lines, making sure not to press hard.

Lastly, use the brush along the tongue and the roof of the mouth to help freshen breath.
It is recommended that the directions are followed that come with the electric toothbrush to ensure proper tooth care.
How Long do Electric Toothbrushes Last?
Electric toothbrushes last typically 5 years. Most manufacturers will offer a two-year warranty on their products. Leaving the toothbrush on the charger is one way to prolong the life of the electric toothbrush.
In regards to the brush heads, it is recommended that they be changed out every three months. If the heads are not replaced within the 3-month time frame, more damage could be done to the teeth and gums.