Plan B One-Step - Anticonceptivo de emergencia en tabletas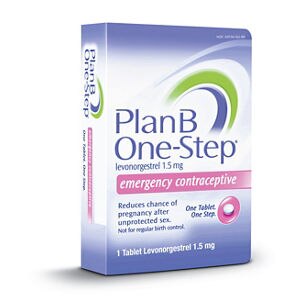 Plan B One-Step - Anticonceptivo de emergencia en tabletas
1 u., 0.37 lb. N.° de artículo 876669
Ya en venta en algunas sucursales con atención desde el auto. ¡Qué práctico!
https://www.cvs.com/store-locator/landing?filters=Drive_Thru
Elegible para HSA/FSA
El anticonceptivo de emergencia Plan B One-Step® es un plan de contingencia que ayuda a prevenir un embarazo después de tener relaciones sexuales sin protección o si el método anticonceptivo usado falló. Usar según las indicaciones.
Plan B One-Step® ayuda a prevenir un embarazo si se usa según las indicaciones dentro de las 72 horas (3 días) después de la relación sexual sin protección o falla de método anticonceptivo. Cuanto antes lo tome, mejor funciona
La marca de anticonceptivos de emergencia n.° 1 recomendada por ginecólogos/obstetras* usada por millones de mujeres1,2
Al tomarse según las indicaciones, puede reducir significativamente las probabilidades de quedar embarazada. Aproximadamente 7 de cada 8 mujeres que hubiese quedado embarazada no quedará embarazada tras tomar Plan B One-Step®
Este producto es en general seguro y eficaz si se lo toma según las indicaciones
Plan B One-Step® no funcionará si ya está embarazada y no afectará un embarazo existente
Plan B One-Step® contiene levonorgestrel, la misma hormona que se usa en muchas píldoras anticonceptivas, pero en una dosis mayor. Se trata de un plan de contingencia y no debe usarse como método anticonceptivo regular ya que no tiene la misma eficacia
Encuéntrelo en la sección correspondiente. Para comprar este producto no se requiere presentar receta médica ni identificación, y no hay restricción de edad
Plan B One-Step® no la protege contra el VIH/SIDA ni otras enfermedades de transmisión sexual (ETS).
*Encuesta realizada a 1000 ginecólogos/obstetras, febrero de 2016.
Referencias: 1. Estudio de mercado, febrero de 2016. Teva Women's Health, Inc. 2. Revisión de uso de medicamentos de la FDA, diciembre de 2011. www.fda.gov.
Specifications

| | |
| --- | --- |
| Problema | Anticonceptivos |
| Formulario | Tabletas, pastillas y cápsulas |
| Tipo de producto | Anticonceptivos de emergencia |
Productos relacionados
Aftera
Aftera reduces chance of pregnancy after unprotected sex or birth control failure To be taken within 72 hours (3 days) after unprotected sex or birth control failure One tablet, one dose The sooner you take it, the better it works ...
Más productos relacionados
*Las reseñas y calificaciones de los clientes reflejan únicamente la opinión y punto de vista de los contribuyentes individuales y no son creadas ni avaldas por CVS Pharmacy. Revise las etiquetas del producto y consulte a su médico si tiene alguna pregunta médica o de salud.
Plan B FAQs
What Is Plan B?
Plan B One-Step is an emergency contraceptive pill designed to help prevent pregnancy after you have unprotected sex or in the event of a birth control failure, such as a condom breaking. It is sometimes referred to as a morning after pill.
How Does Plan B Work?
Plan B contains a single, highly concentrated dose of levonorgestrel, the same hormone used in many daily birth control pills, which helps to prevent pregnancy. Plan B works by delaying or preventing the release of an egg from the ovary (ovulation). It is thought that Plan B may also work by helping to prevent the fertilization of an egg, or by preventing implantation in the uterine wall.
How Effective Is Plan B?
Plan B can help to significantly decrease the chances of you becoming pregnant when used as directed. Approximately 7 out of every 8 women who would have become pregnant will not become pregnant after taking Plan B.
When to Take Plan B
Plan B must be taken within 72 hours of unprotected sex or a birth control failure in order to be effective. It is best to take it as soon as possible, because Plan B is more effective the sooner you take it.
How Late Can You Take Plan B?
Plan B can be taken up to 72 hours after unprotected sex or a birth control failure. Because Plan B is more effective the sooner you take it, it is a good idea to take Plan B as soon as you can following unprotected sex or a birth control failure.
How Often Can You Take Plan B?
You can take Plan B as often as you need emergency contraception. However, you should not use Plan B as a regular birth control method, because it is not as effective. If you find that you need to use Plan B frequently, it is a good idea to talk to your doctor about switching to a different method of regular birth control.
Is Plan B Abortion?
Plan B is not an abortion pill. Plan B will not cause an abortion and will not affect an existing pregnancy.
Is Plan B Safe?
When used as directed, Plan B is generally safe. However, some women may experience side effects after taking Plan B.
What Are Possible Plan B Side Effects?
Possible side effects of Plan B include:
changes in your period, such as a period that comes earlier or later, or a flow that is heavier or lighter than usual
nausea, dizziness, or vomiting
dolor en la zona baja del abdomen
cansancio
dolor de cabeza
sensibilidad en los senos
These side effects are generally not dangerous. However, if you have severe pain, especially severe abdominal pain, you should see your doctor right away. You could have an ectopic pregnancy, which requires immediate medical attention.
Is Plan B Over the Counter?
Yes, Plan B is available over the counter. You do not need a prescription or an ID to buy Plan B. You should also know that there are no age restrictions for purchasing Plan B.
How Much Does Plan B Cost?
Plan B typically costs between $40.00 - $50.00. In some cases, you may be able to apply coupon savings to lower your cost.
Where to Buy Plan B
You can buy Plan B at your local CVS or online. Look for it in the family planning aisle or ask your pharmacist if you don't see any on the shelf. You do not need an ID or a prescription to purchase Plan B, but it is sometimes stocked behind the counter.
Can You Get Plan B From a CVS Drive-Thru?
Yes, Plan B is now sold at select drive-thru locations.
Is There Anything Else I Should Know?
Plan B is generally safe and effective, but if you have any concerns, do not hesitate to contact your healthcare provider. If you vomit within 2 hours after taking a dose of Plan B, you should call your healthcare provider to find out if it is necessary to repeat the dose. In some cases, certain drugs or herbal supplements may decrease the effectiveness of Plan B. If you are taking any of the following, you should consult your doctor before taking Plan B: barbiturates, bosentan, carbamazepine, felbamate, griseofulvin, oxacarbazepine, phenytoin, rifampin, St. John's Wort, topiramate, and certain HIV/AIDS medications.
How Can I Pick Up Plan B Discretely?
Plan B is now available to discretely buy online pick up in store at select CVS in store pickup and drive through locations. Check to see if your local CVS has in store pickup available.
When Does Plan B Expire?
Plan B typically has a shelf life of four years however, it is recommended to always check the expiration date on the Plan B box before taking it. Due to the long shelf life of Plan B, it is recommended to keep on hand for emergency use. Always store Plan B levonorgestrel products in a cool dry place.
Can You Take Other Medicine With Plan B?
Although most medications do not have an impact on the effectiveness of Plan B it is important to check with your doctor or another healthcare professional before taking Plan B if you take any of the following medications that may make Plan B less effective:
barbiturates
carbamazepine
felbamate
griseofulvin
oxcarbazepine
phenytoin
rifampin
topiramate
How Long Does Plan B Stay In Your System?
Typically Plan B levonorgestrel pills fully exit your system within 5-7 days depending on factors like weight and metabolism.
Is There A Weight Limit For Plan B?
According to the FDA there is no weight limit that impacts the effectiveness of Plan B. The largest factor in the effectiveness of Plan B is how soon it is taken after unprotected sex.
How Do You Know If Plan B Worked?
To find out if Plan B worked you must wait until your next period comes. If your period is more than a week late you may want to consider taking a prueba de embarazo.
Búsquedas relacionadas
Aftera, levonorgestrel, emergency contraceptives, pharmacist prescribed birth control
Plan B One-Step - Anticonceptivo de emergencia en tabletas