ResMed Quattro FX (mask cushion only), Large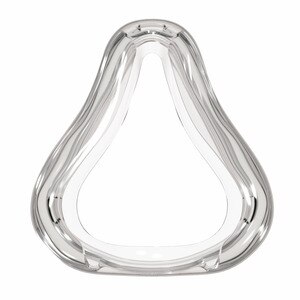 ResMed Quattro FX (mask cushion only), Large
1 C/U, 0.08 lb. N.° de artículo: 404634
ResMed Mirage™ FX (mask cushion only)

Includes the nasal cushion for the ResMed Mirage™ FX nasal CPAP mask. This purchase does not include the Mirage FX headgear or mask frame system.
About the complete ResMed Mirage FX mask system:
• Nose coverage, nasal mask, silicone cushion
• Quick-release elbow allows you to get up at night and disconnect without removing the mask
• Features the Spring Air™ cushion, designed to reduced pressure on the face while maintaining a high-performing seal
• Design is a predecessor to today's popular AirFit™ series
• Prescription required for complete mask system



Especificaciones

| | |
| --- | --- |
| Problema | Insomnio |
| Características | Adjustable |
| Material | Plástico |
| Tipo de producto | Sleep apnea masks & accessories |
ResMed Quattro™ FX (mask cushion only)

Replacing your equipment
The Centers for Medicare and Medicaid Services (CMS) coverage guidelines allow for regular replacement of masks and accessory parts, like air filters or tubing.
Replacing your mask and accessories as appropriate helps ensure you are receiving the best, most comfortable therapy possible.

When to replace you mask components www.resmed.com/en-us/sleep-apnea/cpap-parts-support/cpap-supplies-replacement-parts/   

Cleaning your mask in the home
Your mask and headgear should only be gently washed.

Daily/After each use:
• Disassemble the mask components according to the disassembly instructions.
• Thoroughly clean the separated mask components (excluding headgear), by gently rubbing in warm (approximately 86°F/30°C) water using mild soap.
• To optimize the mask seal, facial oils should be removed from the cushion after use.
• Use a soft bristle brush to clean the vent.
• Inspect each component and if required, repeat washing until visually clean.
• Rinse all components well with drinking quality water and allow to air dry out of direct sunlight.
• When all components are dry, reassemble according to the reassembly instructions.

Weekly:
• Handwash the headgear. It may be washed without being disassembled.
• Handwash the soft sleeves.

WARNING
• Do not use aromatic-based solutions or scented oils (eg, eucalyptus or essential oils), bleach, alcohol or products that smell strongly (eg, citrus) to clean any of the mask components. Residual vapours from these solutions can be inhaled if not rinsed thoroughly. They may also damage the mask, causing cracks.

CAUTION
• If any visible deterioration of a system component is apparent (cracking, crazing, tears etc), the component should be discarded and replaced.
• Avoid connecting flexible PVC products (eg, PVC tubing) directly to any part of the mask. Flexible PVC contains elements that can be detrimental to the materials of the mask, and may cause the components to crack or break.

ResMed product user guides: www.resmed.com/en-us/sleep-apnea/cpap-parts-support/cpap-product-manuals/  
ResMed Quattro™ FX cushion

Intended use
The Quattro FX/Quattro FX for Her channels airflow noninvasively to a patient from a continuous positive airway pressure (CPAP) or bilevel device.

The Quattro FX/Quattro FX for Her is:
• to be used by adult patients (> 66 lb/30 kg) for whom positive airway pressure has been prescribed
• intended for single-patient re-use in the home environment and multipatient re-use in the hospital/institutional environment.

WARNING
• The mask must be used under qualified supervision for users who are unable to remove the mask by themselves. The mask may not be suitable for those predisposed to aspiration.
• The elbow and valve assembly have specific safety functions. The mask should not be worn if the valve is damaged as it will not be able to perform its safety function. The valve should be replaced if it is damaged, distorted or torn.
• The vent holes must be kept clear.
• This mask should only be used with CPAP or bilevel devices recommended by a physician or respiratory therapist.
• The mask should not be used unless the device is turned on. Once the mask is fitted, ensure the device is blowing air.
Explanation: CPAP and bilevel devices are intended to be used with special masks (or connectors) which have vent holes to allow continuous flow of air out of the mask. When the device is turned on and functioning properly, new air from the device flushes the exhaled air out through the mask vent holes. However, when the device is not operating, insufficient fresh air will be provided through the mask, and the exhaled air may be rebreathed.Rebreathing of exhaled air for longer than several minutes can, in some circumstances, lead to suffocation. This applies to most models of CPAP or bilevel devices.
• Follow all precautions when using supplemental oxygen. Oxygen flow must be turned off when the CPAP or bilevel device is not operating, so that unused oxygen does not accumulate within the device enclosure and create a risk of fire.
• Oxygen supports combustion. Oxygen must not be used while smoking or in the presence of an open flame. Only use oxygen in well ventilated rooms.
• Remove all packaging before using the mask.
• Ensure the soft sleeves are fitted at all times during use.

ResMed product user guides: www.resmed.com/en-us/sleep-apnea/cpap-parts-support/cpap-product-manuals/ 
*Las reseñas y calificaciones de los clientes reflejan únicamente la opinión y punto de vista de los contribuyentes individuales y no son creadas ni avaldas por CVS Pharmacy. Revise las etiquetas del producto y consulte a su profesional de la salud si tiene alguna pregunta médica o de salud.
ResMed Quattro FX (mask cushion only)