Vaginal Moisturizer & Lubricant
Mostrando 1-2 de
2 productos
Hidratantes y lubricantes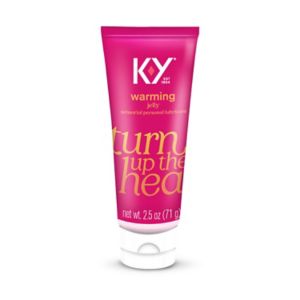 K-Y Warming Jelly Personal Lubricant
K-Y
Los miembros de CarePass
TM
Los precios en línea puede ser diferentes a los precios en tiendas.
Vaginal Dryness Solutions
Vaginal dryness is a common problem that affects many women. If you're among those prone to dryness, you may suffer from uncomfortable symptoms or find sexual intercourse to be painful or difficult. Fortunately, you can take steps to help address the problem with vaginal moisturizers. CVS offers a diverse assortment of moisturizers and lubricants, so you can shop online and have your order shipped discreetly to your home.
Best Lubricant For Vaginal Dryness
To keep the vaginal tissue hydrated and facilitate intercourse, a woman's body naturally secretes a clear lubricating fluid. The hormone estrogen helps to regulate this production of vaginal fluid. During menopause, estrogen levels drop, which can lead to a decrease in vaginal fluid that results in dryness. Stress, depression, medications, cancer treatments and smoking can also lower estrogen levels and negatively affect levels of vaginal fluid. Symptoms of vaginal dryness may include discomfort during sex, irritation and itching.
Vaginal Moisturizers
Vaginal moisturizers are products that are intended to address everyday discomfort related to vaginal dryness. Moisturizers are lightweight and work to help moisturize the skin in a way that mimics the actions of vaginal fluid. Vaginal moisturizers are available in liquid, cream, gel and jelly forms. Some products come with applicators to simplify use.
Vaginal Lubricants For Dryness
To address discomfort that occurs during sex, you and your partner may wish to use a personal lubricant. Lubricants have a thicker consistency than moisturizers and make the vagina more slippery. This helps to reduce friction during intercourse, making penetration easier and sex more comfortable for both of you. There are three main types of lubricants: water based, silicone based and oil based. Water-based products become absorbed by the skin gradually after application. As a result, they typically do not leave behind greasy residues on the hands or genitals. Silicone lubricants remain on the surface of the skin, so they are less likely to need to be reapplied during intercourse. Oil-based options are very silky but cannot be safely used with condoms.
Best Lubricant For Women
If you're experiencing symptoms of vaginal dryness, it's a good idea to discuss the problem with your medical provider. He or she can help to determine what may be responsible for the problem. Then, your health care provider can help you explore your options for vaginal moisturizers and vaginal lubricants, so that you can select the best one for your needs. Make sure that you follow the directions for use provided with the product for best results.
Related Products
natural lubricants
,
silicone lube
,
water based lube
,
vibradores
,
male enhancement pills
,
kegel weights