Splat Rebellious Colors - Kit completo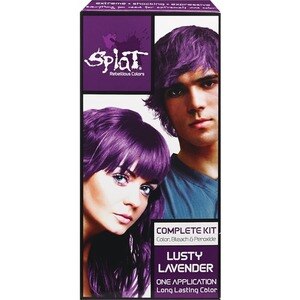 En existencia
for shipping
Find this item at a nearby store
Ingrese un código postal o ubicación
Se envía
gratis
con
CarePass
TM
Los miembros reciben el envío gratis de todo el pedido cuando contenga al menos un artículo elegible para CarePass.
Elegible para envío en 1 a 4 días
Envío gratis en pedidos de $35 o más
Splat Rebellious Colors - Kit completo
1 c/u, 65 lb. N.º de artículo 463180
ARE YOU READY TO GET SERIOUS?
Splat Complete Kits is your ticket to the ultra-vivid, head-turning transformation of your wildest dreams. This semi-permanent kit makes any look you're going for - ombre, streaks, all-over dye - yours for the taking. Our unique conditioning formula will make sure that your locks look and feel fresh through 4-6 weeks. If you can dream it, you can dye it.
Kit contains everything needed for one application
Provides rich hints of color on unbleached or dark hair
Intense, vibrant color on bleached or blonde hair
Easy to apply, and conditions while it colors, keeping your hair smooth while adding a rebellious edge to your style.
Try all our Splat shades for a beautifully dangerous look. The power of color is in your hands. What color will you pick?
Who is Splat?
Splat is manufactured by Developlus Inc. in the USA with headquarters located in Southern California
We're a Cruelty-Free Company! We do not do test on animals!
We're a Women's Owned Certified Business
We're Vegan Certified
Splat Product:
Splat is a semi-permanent color that washes out in 4-6 weeks washes
Results will depend on porosity and condition of your hair
Formula contains conditioners and panthenol to improve moisture retention
Specially developed formula for vivid and dramatic colors
*Strand test: We advise that you test a small section of your hair first to determine how long you want to keep your color in.
Video tutorials and hair ideas at: https://www.splathaircolor.com/tutorials/
SPLAT COMPLETE KIT INCLUDES Everything you need for extremely vivid color!
Splat Lightening Bleach
Splat Oxide
Splat Hair Color
Instructions & Gloves
Use on bleached hair for extremely intense, striking color.
2 kits may be needed for very long or thick hair.
*Perform skin allergy test prior to application
Ingredientes
Splat Bleach Ingredients: Ammonium Persulfate, Cellulose Gum, EDTA, Kaolin, Magnesium Carbonate Hydroxide, Potassium Persulfate, Silica, Sodium Laureth Sulfate, Sodium Metasilicate, Ultramarines
Splat Oxide Ingredients: Deionized Water, Hydrogen Peroxide
Splat Color: Water (Aqua), Sodium Acryloyldimethyltaurate/VP Copolymer, Benzyl Alcohol, Glycerin, Xanthan Gum, Dehydroacetic Acid, Phenoxyethanol, Citric Acid, Disodium EDTA, Fragrance.
May Contain: Acid Red 52 (CI 47100), Acid Yellow 3 (CI 47005), Acid Orange 7 (CI 15510), Acid Blue 1 (Cl 42045), Acid Blue 9 (CI 42090), Basic Red 46 (Cl 11085)
LIGHTENING BLEACH DIRECTIONS
STEP 1: MIX SPLAT OXIDE BOTTEL + SPLAT LIGHTINGING BLEACH (NO COLOR ADDED)
Wear gloves while applying bleach to protect skin
Carefully remove nozzle from SPLAT OXIDE bottle while pointing bottle away from face and eyes
Carefully pour entire content of SPLAT LIGHTENING BLEACH package into the SPLAT OXIDE bottle
Make sure to cut the top of the applicator nozzle, point bottle away from face when cutting
STEP 2: PREP
Re-fix the nozzle tightly onto the SPLAT OXIDE bottle, place finger over nozzle opening and shake well for 1 to 2 minutes until the mixture becomes creamy
STEP 3: APPLICATION
Apply to clean, dry hair
Apply the mixture on hair immediately after the mixture is ready
Keep the bleach inch off the scalp
Make sure all hair strands are coated
Standard method of application should be used (i.e. divide the hair into quarter sections taking small/narrow sections of hair)
STEP 4: BLEACH TIME
To achieve a bright SPLAT COLOR hair should be pale blonde.
Processing time may vary depending on hair type and texture
Check hair color every 10 minutes by wiping bleach mixture from a few strands of hair
If hair is not a pale blonde re-coat strands with bleach mixture and process another 10 minutes
Avoid over-processing: DO NOT leave bleaching mixture on hair for more than 30 minutes
STEP 5: RINSE + WASH HAIR
Rinse your hair with lukewarm water and shampoo thoroughly to remove all the bleach mixture from hair.
STEP 6: Dry Hair
Dry hair completely, removing all moisture, before applying color
If your hair is not a pale blonde after maximum processing time (30 minutes) another bleach application may be needed
Make sure to wait 48 hours in between bleach applications if hair is still dark
HAIR COLOR DIRECTIONS
STEP 1: PREP BEFORE COLORING
For best results your hair should be clean and completely dry
Protect your clothes by wearing a cape, towel or old t-shirt
STEP 2: PROTECTION
Wear gloves to avoid staining hands
Protect skin around forehead, neck and ears with petroleum jelly to prevent staining
STEP 3: SHAKE COLOR
Do not cut tip from applicator bottle.
Prior to applying shake formula, in application bottle, thoroughly
STEP 4: APPLICATION + PROCESSING TIME
The shorter the processing time, the lighter the color.
Section out hair you want to color
Cut tip from applicator bottle, point bottle away from face when cutting
Apply color formula generously onto sections of hair
Process color for 45 mins. to 1 hour, for thicker hair leave formula on for an additional 15 minutes
Check a small section of hair every 10 minutes to check progress
STEP 5: RINSE HAIR
Rinse and wash hair separately
Use an old or dark colored towel when drying hair
Use cold water to avoid staining and help lock in color
STEP 6: FINAL LOOK
Dry and style hair as desired
Advertencias
KEEP OUT OF REACH OF CHILDREN
Do not apply bleach to hair that has been previously processed with metallic dyes.
Do NOT apply if skin or scalp is broken or abraded.
DO NOT leave bleach mixture contents in applicator bottle for more than 2 minutes without using. Contents can build pressure, and bottle may burst.
If your scalp is burning, rinse your hair immediately; you may be having an allergic reaction.
Failure to rinse within 30 minutes may lead to severe scalp damage
Even if your hair has not achieved a pale blonde color, after 30 minutes of bleaching, rinse hair with lukewarm water and shampoo to remove ALL bleach mixture.
Immediately after using bleach mixture, remove nozzle (point away from face), rinse bottle and discard.
USE GLOVES. SPLAT COLOR WILL STAIN SKIN, CLOTHES, AND ANY SURFACE IT COMES IN CONTACT WITH.
DO NOT RUB PRODUCT INTO SCALP OR COLOR
WILL STAIN. IF COLOR GETS ON YOUR SKIN, WIPE OFF WITH A
DAMP CLOTH IMMEDIATELY, OR USE COLOR OOPS COLOR REMOVING WIPES.
SPLAT COLOR IS EXTREMELY CONCENTRATED. AFTER WASHING HAIR, ALWAYS USE AN OLD TOWEL WHEN DRYING HAIR, SINCE COLOR WILL STAIN YOUR TOWEL. KEEP PRODUCT OFF ALL BATHROOM OR KITCHEN SURFACES. SPLAT COLOR WILL BLEED.
Perform skin allergy test prior to application
SKIN ALLERGY TEST FOR HAIR DYE:
IMPORTANT: THIS PRODUCT CAN CAUSE AN ALLERGIC REACTION, WHICH IN CERTAIN RARE CASES, CAN BE SEVERE. TO HELP MINIMIZE THE RISK OF AN ALLERGIC REACTION, YOU MUST FOLLOW THESE PRECAUTIONS:

SKIN ALLERGY TEST INSTRUCTIONS:
CLEANSE AN AREA THE SIZE OF A QUARTER IN THE BEND OF YOUR ELBOW WITH SOAP AND WATER. PAT DRY.
APPLY TO THE TEST AREA WITH A COTTON SWAB OR COTTON BALL. TIGHTLY RECAP THE BOTTLE.
LET TEST SPOT DRY. DO NOT WASH, COVER, OR DISTURB FOR 48 HOURS.
EXAMINE TEST AREA PERIODICALLY OVER THE NEXT 48 HOURS. IF YOU EXPERIENCE ANY REACTIONS SUCH AS REDNESS, BURNING, ITCHING, SWELLING, SKIN ABRASIONS, ERUPTIONS, OR IRRITATION IN OR AROUND THE TEST AREA, DO NOT COLOR YOUR HAIR UNTIL YOU CONSULT A DOCTOR.
Los precios en línea puede ser diferentes a los precios en tiendas.
*Customer reviews and ratings solely reflect the views and opinions of the individual contributors and are not created or endorsed by CVS Pharmacy. Please review the product labeling and consult with your doctor with any health or medical questions.