Los miembros de CarePass
TM
Mostrando 1-15 de
15 productos
Nature's Bounty - Cimicifuga racemosa natural, 540 mg, 100 u.
Nature's Bounty
Compre 1, lleve 1 gratis - ¡Agregue 2 o más para ser elegible!
o
en pedidos de $35 o más.
CVS Health - Cápsulas de ayuda para la menopausia, Maximum Strength, 28 u.
CVS Health
Compre 1, lleve 1 gratis - ¡Agregue 2 o más para ser elegible!
o
en pedidos de $35 o más.
Nuvomed Nonhormonal Menstrual Care Capsules, 60 CT
Nuvomed
Envío gratis con pedidos de $35 o más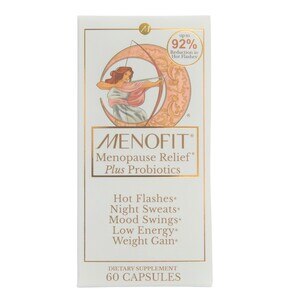 Menofit Menopause Relief Plus Probiotic Capsules, 60 CT
Menolabs LLC
Envío gratis con pedidos de $35 o más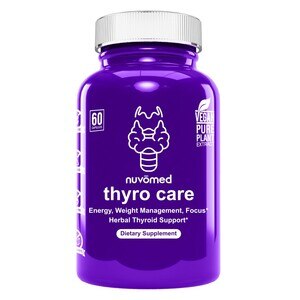 Nuvomed Thyro Care Capsules, 60 CT
Nuvomed
Envío gratis con pedidos de $35 o más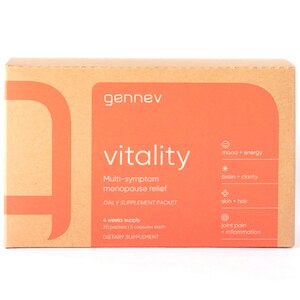 Gennev Vitality Menopause Supplement, Multi-symptom Menopause Relief, 30 CT
Gennev
Envío gratis con pedidos de $35 o más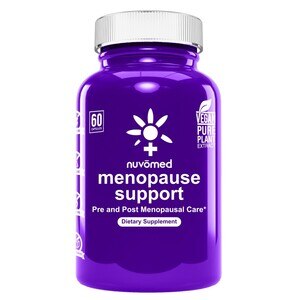 Nuvomed Menopause Support Capsules, 60 CT
Nuvomed
Envío gratis con pedidos de $35 o más
Nuvomed Vagicare Capsules, 60 CT
Nuvomed
Envío gratis con pedidos de $35 o más
Los precios en línea puede ser diferentes a los precios en tiendas.
Supplements For Menopause
Are menopausal symptoms interfering with your ability to focus during the day or rest comfortably at night? If you're looking for a menopause supplement to help side effects and make this period of transition easier, CVS can help. In this product selection, you'll find a diverse assortment of menopause supplements that you can shop online. Your order will be delivered right to your door in discreet packaging.
What is Menopause?
Women approaching the end of their menstrual cycles undergo something called menopause, which typically occurs between the ages of 40 and 60. This natural biological process is normal, but it can also cause a myriad of unpleasant symptoms. Some common symptoms of menopause include hot flashes, insomnia, low energy levels, and anxiety or emotional issues. Thankfully, with the right therapies, most women can transition through menopause with minimal problems. Natural supplements that can increase estrogen levels in the body may be able to help.
Benefits of Menopause Supplements
Women may choose to take menopause supplements for a variety of reasons. In some cases, women may not be able to use prescription medications for menopause symptoms and use supplements as an alternative remedy. Other times, women opt for supplements instead of medications because they prefer a more natural approach to deal with symptoms. Medical providers may also recommend supplements for women who are not getting relief with conventional interventions.
Natural Estrogen Supplements
If you're looking for a safe and natural way to treat the symptoms of menopause, consider natural supplements that can boost the levels of estrogen in your body. Some of these supplements include:
Cimicifuga racemosa: This Native American herb can help to stimulate estrogen receptors in the body. Many women take this natural supplement to reduce the symptoms of menopause and other menstrual issues.
Soy: You can find estrogen supplements that contain soy, or you may increase the amount of soy in your diet by eating foods like tofu or miso. Soy is rich in phytoestrogens, which mimic natural estrogen in the body by binding to estrogen receptors. Some studies show that a higher soy intake may lead to a lower risk of breast cancer.
Vitamin D: Taking vitamin D with estrogen can help reduce the risk of cardiovascular disease. This vitamin is actually a hormone that can help play a vital role in estrogen synthesis, and it also supports healthy teeth and strong bones.
Chasteberry: This traditional herbal treatment is known to help lessen the symptoms of PMS. But it has also been shown to exhibit some estrogen-boosting effects, too. Look for supplements that contain chasteberry as part of the ingredients, or you may find it as a standalone supplement.
B Vitamins: You can make dealing with menopause easier by getting plenty of B vitamins. These vitamins play a vital role in the creation and maintenance of estrogen in the body. You can also eat foods rich in B vitamins to give your body what it needs, and you should experience better energy levels, too.
If you are in menopause, talk to your doctor about some ways to find relief. Your doctor may recommend taking some natural estrogen supplements to help make dealing with this change in your life easier.
Menopause Supplement Ingredients
There are a number of ingredients commonly used in menopause supplements. Extracts from the soy plant are often taken to help symptoms of menopause, as isoflavone compounds in the plant are thought to acts similarly to estrogen in the body. Products may also contain herbs that could help the side effects of menopause. These include black cohosh, licorice root, blessed thistle and dong quai. Supplements may contain just one ingredient or a combination of two or more ingredients.
Best Menopause Supplements
As you start shopping for menopause supplements, keep your specific concerns in mind. Some supplements are general formulas that can be taken to help a wide range of symptoms or to promote overall health and well-being during menopause. Others are formulated for a specific purpose, such as helping to support weight management, hot flashes, energy levels or mood swings. The product names and descriptions will tell you more about the potential benefits of the products and the ingredients that they contain. In addition to comparing the features and formulas, you'll also want to consider the forms, looking for a supplement that will be easy for you to take.
At this time, more research is needed to verify that any ingredient found in menopause supplements has the ability to address symptoms for all women who use it. Some ingredients have the potential to cause side effects, drug interactions and allergic reactions, making it important that you consult your health-care provider before you start taking any supplement.
Búsquedas relacionadas
homeopathic menopause relief, menopause relief pills, hot flash relief, best menopause relief, cranberry for urinary health