Mostrando 1-1 de
1 productos
Probióticos y salud digestiva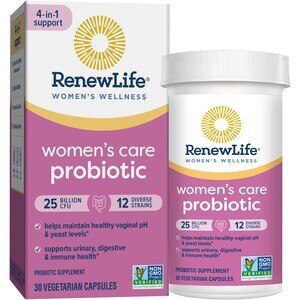 Renew Life Women's Probiotic - Ultimate Flora Women's Care Probiotic Supplement - 25 Billion CFU
Renew Life
Los miembros de CarePass
TM
Los precios en línea puede ser diferentes a los precios en tiendas.
Digestive Health Supplement
Your digestive system is an important function of your body. Not only does it process the food you eat and absorb key nutrients, but it also supports your immune system to help your body fight germs that may make you sick. If you're concerned about digestive health and want to support it with a supplement, CVS can help you find the best product for your needs. This product selection features a diverse assortment of digestive health supplements in various types, strengths and forms.
Probiotics Digestive Support
Normally, you think of bacteria as something that causes illness, but not all bacterial microbes are bad. There are many types of bacteria present in your body, and many strains are actually beneficial. In your digestive system, bacteria called probiotics may aid in digestion and fight harmful microbes that contribute to illnesses. Probiotic supplements contain live cultures of these good bacteria and can help to increase the number of them present in your digestive tract.
Probiotic Supplement For Digestive Health
Probiotic supplements are often simply taken to promote a proper balance of flora in the digestive tract and support digestive health. There is some research to suggest that probiotics may be beneficial for controlling diarrhea caused by antibiotics and for easing symptoms of certain medical conditions like lactose intolerance, irritable bowel disease and traveler's diarrhea. People also take probiotics for women to help support urinary and vaginal health. At this time, there is not enough evidence to prove that probiotics are beneficial for any medical condition, illness or disease.
Best Digestive Enzyme Supplements
As you compare probiotic supplements, pay attention to their strengths. Each supplement provides a certain number of live cultures of probiotics per dose. Products may also contain different strains of probiotics, providing either just one type or an assortment of several types. Some probiotic supplements also contain prebiotics, nutrients that probiotics need to thrive. Once you have narrowed down the options to focus on products that contain the right strains for your needs at the right dose, you can compare the forms and choose the one that will be easiest for you to take.
Although digestive health supplements do not contain drugs or require a doctor's prescription, you should still discuss them with your medical provider before adding one to your diet. Some products may cause interactions with certain medications or pose a risk for allergic reactions or side effects. Your medical provider can give you advice about which digestive health supplement is right for you. To get the most out of supplements, use them as directed by the manufacturer unless you receive different advice from your health-care provider.
Búsquedas relacionadas
silicon dioxide, constipation for children, fiber for children, laxatives for children, anti diarrhea liquid, constipation relief liquid, probiotics with fiber