Mostrando 1-4 de
4 productos
Nature's Bounty Saw Palmetto Capsules, 450 Mg, 100 CT
Nature's Bounty
Compre 1, lleve 1 gratis - ¡Agregue 2 o más para ser elegible!
o
en pedidos de $35 o más.
CVS Health - Saw Palmetto en cápsulas, 450 mg, 250 u.
CVS Health
Compre 1, lleve 1 gratis - ¡Agregue 2 o más para ser elegible!
o
en pedidos de $35 o más.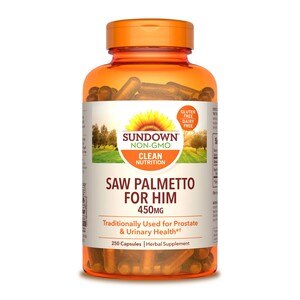 o
en pedidos de $35 o más.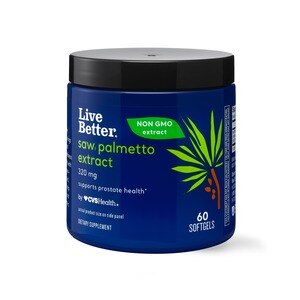 Live Better - Extracto de Saw Palmetto, 320 mg, 60 u.
Viva mejor
Precio con CarePass
™
$15.99
o
en pedidos de $35 o más.
Los precios en línea puede ser diferentes a los precios en tiendas.
If your doctor has recommended that you start using saw palmetto, CVS is the place to shop for supplements. In this product selection, you'll find a diverse assortment of saw palmetto products in a variety of strengths and forms to meet your needs. Check out the entire supplement selection or filter the results to focus on specific products.
What are the Best Saw Palmetto Brands?
What Is Saw Palmetto (Serenoa Repens)?
Also known as the Serenoa Repens, American dwarf palm tree and the cabbage palm, saw palmetto is a small palm tree that grows in the Southeast United States. The berries of the plant were once used as a medicinal remedy by the Seminole Native American tribe in Florida. Today, many people take saw palmetto in supplement form. Most saw palmetto supplements are capsules that contain the extract from the berries. Tablets, liquids and other forms of saw palmetto are offered by some manufacturers.
What Are Saw Palmetto Benefits?
Saw palmetto is most often used to help support prostate health in men. Specifically, men may take saw palmetto supplements to help symptoms of benign prostatic hyperplasia (enlarged prostate). Because of its potential benefits for prostate health, saw palmetto is sometimes added to men's multivitamins and herbal supplements that promote sexual well-being.
What Are Saw Palmetto Uses?
People may choose to take saw palmetto for reasons other than men's health. Some believe that saw palmetto may promote hair growth in people with male or female pattern baldness. Supplements are also sometimes used to help reduce the frequency of migraine headaches, to ease pelvic pain and to increase sex drive in men and women.
What Does Saw Palmetto Do?
Saw palmetto may shrink the inner lining that puts pressure on the tubes inside the prostate that carry urine. It may also help to keep testosterone from converting into a more powerful form of testosterone known as dihydrotestosterone, or DHT. Some also purport that saw palmetto may help to reduce hair loss that is caused by increased sensitivity of the hair follicles due to DHT. When the levels of DHT are reduced, it can help slow down or prevent hair loss altogether.
How Much Saw Palmetto Should I Take?
Keep in mind that research into the benefits of saw palmetto as an herbal remedy is ongoing. There is not yet enough evidence to prove that saw palmetto is beneficial for treating or managing any medical condition or that any specific supplement is effective. Saw palmetto is known to cause side effects, allergic reactions and drug interactions in some people. To reduce your risk of problems, talk to your health care provider before starting on a saw palmetto supplement. Follow the directions for use provided by the supplement manufacturer unless you are given different advice by your medical provider.
Saw Palmetto For Prostate
Saw palmetto is marketed as a supplement that can help men with symptoms associated with an enlarged prostate. The supplement many also help men recovering from prostate surgery and may also help to treat other prostate issues. Some studies have shown that men who take 320 mg of saw palmetto every day for two months before prostate surgery may reduce blood loss, the time spent in surgery, and problems associated with the surgery. It may also reduce the length of time patients must spend in the hospital before recovery.
Saw Palmetto Extract
Berries of the saw palmetto tree contain the compound that may help reduce symptoms of certain prostate problems, such as an enlarged prostate or frequent urination. Most supplements contain the extract from saw palmetto berries. Read the ingredients carefully to determine how much saw palmetto is contained in each serving. Always take this supplement as directed and look for supplements that have a higher potency if you need to treat more severe prostate issues. Saw Palmetto has very few side effects, although some people have reported a mild upset stomach. Always talk to your doctor if you're currently taking any prescription medications and before you start a new supplement like saw palmetto.
Búsquedas relacionadas
nature's bounty saw palmetto, prostate formula with saw palmetto, hair skin and nails vitamins with biotin, best hair regrowth, new hair regrowth, sex pills for men