Wahl - Cortadora de acero inoxidable con batería de iones de litio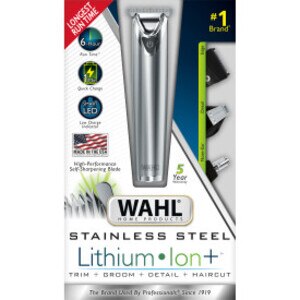 Wahl - Cortadora de acero inoxidable con batería de iones de litio
1 EACH, 1.28 lbs. Item # 251418
Wahl's® Stainless Steel Lithium-Ion +TM Trimmer is designed for beard trimming, body grooming, detail shaving/trimming, and even light haircutting.
---
There are 4 interchangeable heads that come with this kit: T-Blade Trimmer Head, Detail Shaver Head, Precision Detail Trimmer Head, and the Ear/Nose Trimmer Head.
The T-Blade is great for beard and body trimming, as well as haircutting. Attach and of the 12 t-blade attachment guards to this head to achieve even cutting lengths.
The Detail Shaver Head provides a close shave. It is especially great for upper cheek and detail shaving of the neck.
The Precision Detailer Head neatly trims up small tight areas. This inlcudes, eyebrows, external nose hairs, and chin hairs. It's the perfect size for fine detail trimming.
The rotary Ear/Nose trimmer head provides hygienic grooming of the ear and nose.
---
The trimmer body is made of brushed stainless steel that not only gives the trimmer a sleek look, but provides heavy duty protection.
---
This trimmer is powered with LIthium-Ion + technology, allowing up to a 6 hour runtime and a 1 minute quick charge. It is also rechargeable, simply plug it in to charge and unplug when ready to use. When your trimmer has a low battery, the smart LED charge indicator will blink letting you know the trimmer needs charged.
---
This trimmer is made in the USA and comes with a 5 year limited warranty and 60 day money back guarantee.
---
---
Wahl® has been the trusted brand used by professionals® worldwide since 1919.
---
Kit Contents Include:
Lithium-Ion+ Stainless Steel Trimmer
Precision Detail Trimmer Head
Rotary Ear/Nose Trimmer Head
T-Blade Trimmer Head
Detail Shaver Head
Charging Cord
Soft Zipper Storage Pouch
Beard Comb
Blade Oil
Detail Cleaning Brush
English/Spanish Instruction Guide
Twelve Guide Comb:1/16 inch (1.5 mm), 1/8 inch (3 mm), 3/16 inch (5 mm), 1/4 inch (6.5 mm), 5/16 inch (8 mm), 3/8 inch (9.5 mm), 7/16 inch (11 mm), 5/8 inch (16 mm), 3/4 inch (19 mm), 7/8 inch (22 mm)
TIPS & TECHNIQUES
Recharging:
---
LITHIUM-ION BATTERY REPLACEMENT, CLIPPER DISPOSAL AND RECYCLING:
---
Oiling Blades
For best results, use Wahl Clipper Oil on the blades only when necessary, or approximately once a month. Motor bearings are permanently lubricated-do not attempt to oil.
When oiling your trimmer, turn the trimmer "ON - I," hold the unit with the blades facing DOWN and squeeze three drops across the front of the blade and one drop on each side on the heel of the blade. Wipe off excess oil with soft cloth.
DO NOT OVER OIL - Excessive oiling or application of liquids will cause damage if allowed to seep back into motor.
1. This trimmer is conveniently designed for household use. It should be allowed to charge completely before its first use.
2. Remove the trimmer, recharging transformer and accessories from the packing material.
3. Connect the transformer to the trimmer. BE SURE TRIMMER IS IN THE "OFF - 0" POSITION WHEN CHARGING.
4. Plug the recharging transformer into any convenient electrical outlet at the correct voltage.
5. When charging the trimmer, the LED will pulse.
6. When charging is completed, the LED will stay ON.
7. When the trimmer is about to run out of energy, the LED will flash to indicate that you have less than 15% battery capacity remaining. Once flashing starts, there should be enough charge remaining to finish trimming before re-charging the trimmer.
8. Once the LED begins flashing to indicate that it needs to be re-charged, it will remain flashing until the trimmer is completely re-charged or until the trimmer runs out of power. Completely recharged means that enough charge time has elapsed and the LED stays ON.
9. When trimmer is low in power, it should be connected to the transformer and plugged into an outlet to assure maximum power is available when it is next used. This transformer is designed to completely charge the battery without overcharging. Do not use the trimmer while it is charging.
10. The battery will take approximately 60 minutes to charge. The lithium ion trimmer also has quick charge capability. Quick charge means for every minute you charge the trimmer, you can get approximately 5 minutes of usage. For example, if you are in a hurry, charging for 3 minutes will give you 15 minutes of run time.
11. Insert only recharging transformer plug supplied by the manufacturer into charger receptacle.

For battery replacement send the entire, intact clipper unit to: Wahl Annex 3001 North Locust, P.O. Box 578, Sterling, IL 61081
Do not attempt to remove the battery. Lithium-Ion batteries can explode, catch fire, and/or cause burns if disassembled, damaged, or exposed to water or high temperatures.
If you choose not to replace the battery, the entire, intact clipper unit must be disposed. Do not attempt to remove the battery for disposal. Lithium-Ion batteries may be subject to local disposal regulations. Many locations prohibit disposal in standard waste receptacles. Check your local laws and regulations.
For recycling contact a government recycling agency, waste disposal service, retailer, or visit online recycling sources, such as www.batteryrecycling.com or www.rbrc.org.
Advertencias
IMPORTANT SAFEGUARDS
When using your electrical appliance, basic precautions should always be followed. Read ALL of the provided instructions and safeguards before using this appliance.
---
Our units are quality tested with hygenic fibers. Any residual fibers do not affect performance and can be brushed off.
---
For an appliance that has a rechargeable battery:
Always unplug the charger from the electrical outlet immediately after use or after charging the battery.
Unplug the charger before using appliance
---
For household use only
*Customer reviews and ratings solely reflect the views and opinions of the individual contributors and are not created or endorsed by CVS Pharmacy. Please review the product labeling and consult with your doctor with any health or medical questions.