Los miembros de CarePass
TM
Mostrando 1-5 de
5 productos
Envío gratis con pedidos de $35 o más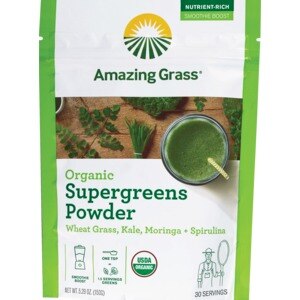 o
en pedidos de $35 o más.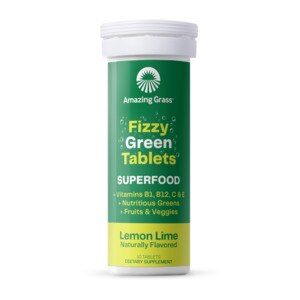 Envío gratis con pedidos de $35 o más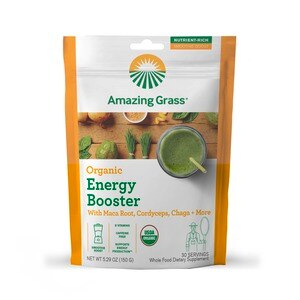 Envío gratis con pedidos de $35 o más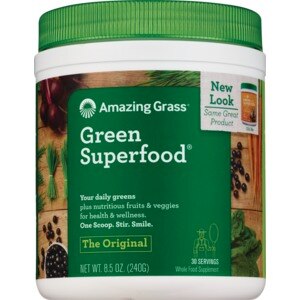 Amazing Grass Green Superfood
Amazing Grass
Compre 1, lleve 1 al 50% - ¡Agregue 2 o más para recibir la oferta!
o
en pedidos de $35 o más.
Los precios en línea puede ser diferentes a los precios en tiendas.
Amazing Grass
®

Green Superfood

Amazing Grass® Green Superfood is a powerful blend of nutrient-dense farm-fresh greens, fruits, and vegetables selected to help you feel your best. Simply add a scoop of this antioxidant formula to 8 oz of water, stir, and enjoy. You can also use this whole food supplement to supercharge your morning juice or smoothies. As you browse the list of ingredients, you'll find an impressive assortment of greens, including organic wheatgrass, alfalfa, and barley grass. The antioxidant formula is available in sweet berry, lemon-lime, and the brand's original flavor.

Although Amazing Grass® products are highly nutritious, they may not be right for everyone. Amazing Grass® supplements contain ample amounts of chlorophyll. Although safe for most people, chlorophyll can cause stomach irritation and may not be advisable for those with ulcers, gout, or kidney stones. If you have questions, contact your healthcare provider.
Amazing Grass
®

Super Green Powder

Amazing Grass® Organic Supergreens Powder combines the many possible benefits of farm-fresh wheatgrass with kale, spirulina, and phytonutrient dense moringa. This organic smoothie booster is a great source of vitamins A and K, amino acids, essential minerals, and natural chlorophyll. A single teaspoon of this concentrated powder gives you the equivalent of a serving and a half of farm-fresh greens.

It can be challenging to get enough leafy greens, vegetables, and fruit into your diet. Amazing Grass® supplements make it easy. Although Amazing Grass® Supergreen powder blends easily into smoothies, you can also use the powder to add the power of superfoods to meals, snacks, and desserts. For nutrition on the go, try Amazing Grass® Fizzy Green Tablets.
How To Use Amazing Grass
®

Green Superfood

Amazing Grass® harvests its greens when nutrition is at its peak. To enjoy, simply add a single scoop to water, juice, or your favorite smoothie recipe. You can also use Amazing Grass® Green Superfood when baking to add plant-based nutrients to cakes, brownies, cookies, or muffins. You'll find numerous recipes for meals, snacks, smoothies, and desserts on their website. Although you can cook with Amazing Grass® products, some of the nutritional value could be lost at high temperatures.

To use Amazing Grass® Green Superfood Effervescent Greens, drop one tablet in 8-10 ounces of water and enjoy. This unique superfood blend is a refreshing way to feel your best every day. Available in lemon-lime or berry, this antioxidant blend is made with organic wheatgrass, barley grass, alfalfa, spirulina, and chlorella. The drink mix tablet also contains green coffee extract, green tea extract, and an impressive list of fruit and vegetable concentrates.
Does CVS Carry Amazing Grass Products?
Yes, CVS sells a variety of Amazing Grass products in stores and online.
Are Amazing Grass Products Available for Same Day Pick Up?
Select Amazing Grass products are available for same day pick up at most locations. Check your local stores for availability and add to cart to pick up today.
Does CVS Deliver Amazing Grass Products?
Yes, CVS delivers Amazing Grass products to your home. Delivery is always free over $35, or join CarePass to enjoy free shipping on a variety of items.
How To Save On Amazing Grass Products?
Join CarePass today to save on Amazing Grass products. Enjoy great offers and deals when you sign up. Check the weekly deals and download the CVS App today for exclusive coupons!