Cómo conseguirlo
Recogida no disponible
Cambiar tienda
Los miembros de CarePass
TM
Mostrando 1-13 de
13 productos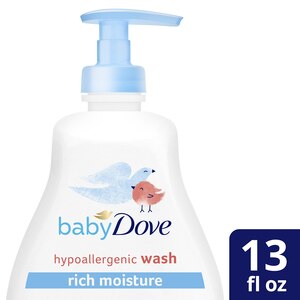 Baby Dove Tip to Toe Baby Dove Sensitive Skin Care Hypoallergenic and Tear-Free Rich Moisture Baby Wash For Baby Bath Time, 13 OZMoisture Wash, 13 OZ
Baby Dove
Compre 1, lleve 1 al 50% - ¡Agregue 2 o más para recibir la oferta!
o
en pedidos de $35 o más.
Los precios en línea puede ser diferentes a los precios en tiendas.
Baby Dove
Baby Dove products are made for the unique needs of your newborn. The Baby Dove product line includes a wide variety of gentle washes, lotions, and shampoos. As they are mild and hypoallergenic, you can use them without fear of irritating your infant's delicate skin.
Baby Dove Shampoo
Babies' scalps are incredibly sensitive. As their scalp is still developing, it is much more susceptible to over-drying. Harsh shampoos designed for adult use can cause your baby's scalp to dry out and lose essential nutrients. Baby Dove Rich Moisture Shampoo uses mild cleaning agents that are as gentle as bathwater. The baby-friendly formula also includes moisturizing cream to help keep your baby's scalp hydrated and silky smooth. Dove understands that bath time can often be a struggle. As it is pH neutral and tear-free, Baby Dove Shampoo can help prevent the tiresome tantrums that cause so much unnecessary stress. With its pleasant and light fragrance, Baby Dove Rich Moisture Shampoo will have your child's hair looking, feeling, and smelling great.
Baby Dove Wash
Baby Dove Body Wash helps clean and protect your baby's thin, developing skin. As your newborn's skin can be up to 30% thinner than your own, it requires a gentle, hypoallergenic body wash as babies are prone to having sensitive skin. This mild baby body wash is designed to hydrate while it cleans, replenishing the moisture and nutrients your baby's skin needs. If your baby has sensitive skin, Dove offers fragrance-free baby body washes that help prevent uncomfortable rashes and irritation. Dove aims for the best skin carefor all age groups, and for you baby bathing time, Dove wants to cater to baby delicate skin with tear free ingredients and soap that comes fragrance free.
Baby Dove Lotion
Using a moisturizing lotion helps prevent dryness caused by bathing. Baby Dove Rich Moisture Lotion provides protection for up to 24 hours, keeping your infant's skin hydrated and nourished throughout the day. This lotion is free of harsh ingredients like parabens, phthalates, and dyes, so it is safe to use with sensitive newborn skin. Dove has you covered from bath time, to moisturizing baby skin, using sensitive moisture technology, and is dermatologist tested. Your little one matters to Dove, and Dove wants to provide the best skin care from birth to adulthood. Shop at CVS Pharmacy® to find the Baby Dove products you need to help keep your newborn clean, healthy, and happy.