Cómo conseguirlo
Recogida no disponible
Cambiar tienda
Mostrando 1-3 de
3 productos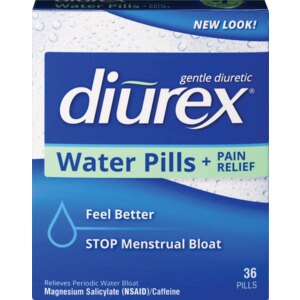 o
en pedidos de $35 o más.
Los precios en línea puede ser diferentes a los precios en tiendas.
What Is Diurex?
Diurex is a water pill (diuretic) and it increases urination when taken as recommended to help get rid of that pesky water weight.
How Does Diurex Work?
There are several types of Diurex on the market today, but one thing they all have in common is that the active ingredient in all of them is a diuretic that helps release excess water from your body.
What Does Diurex Do?
The vast majority of people who take Diurex are women who have a menstrual cycle. Generally a few days before a woman's menstrual cycle starts, she starts feeling bloated or may have gained a few extra pounds due to water retention. When this happens, they take Diurex to get rid of the water weight by increasing how often they go to the restroom, brought on by the active ingredient of pamabrom, caffeine, or caffeine anhydrous. There are other medical conditions that could lead to retaining water that isn't associated with a menstrual cycle. Some medical conditions cause edema (fluid gets trapped in the body's tissues), which can become painful. There are different types of Diurex someone can take:
If you are looking for something to give you a little extra boost to get through the day and need to take Diurex, you can give Diurex Ultra or Diurex Ultimate a try. They both contain caffeine anhydrous (dehydrated caffeine). The caffeine anhydrous will give you a little extra pep in your step as well as help you relieve that extra water weight.

If you are experiencing pain along with the added water weight, you should try Diurex Water Pills + Pain Relief. This contains caffeine to give you a little boost of energy and Magnesium Salicylate (NSAID/pain reliever) to help get through your day.

If you just want to reduce the water weight and don't need any added benefits you should try Diurex Max and get the benefit of pamabrom to help get rid of that water.
Whichever formula you decide on will help get rid of that pesky water weight.
How To Take Diurex
Choose the right option for you and follow the directions on the package and do not take longer than recommended. Make sure you drink plenty of water when taking Diruex to make sure you stay hydrated. If you're taking prescription medications, it's always a good idea to check with your doctor to make sure there won't be any complications.