Cómo conseguirlo
Recogida no disponible
Cambiar tienda
Mostrando 1-5 de
5 productos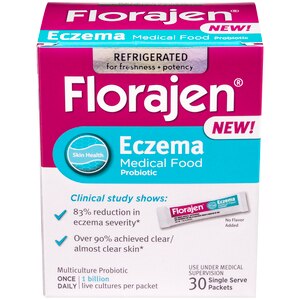 Envío gratis con pedidos de $35 o más
Los precios en línea puede ser diferentes a los precios en tiendas.
What Is Florajen?
Florajen (lactobacillus acidophilus) is a good bacteria (probiotic) that occurs naturally, often found in the vagina and intestines. Since this is a natural bacteria, it is likely that some people will have more or less of this bacteria present based on their diet, therefore there is sometimes the need to increase your levels with over-the-counter (OTC) supplements. Flojaren is kept refrigerated until purchased.
What Is Florajen Used For?
Florajen can be taken as a supplement to help relieve multiple ailments caused by the lack of good bacteria in the body, so there are several formulas available:
Flojaren Eczema has a special blend that has been scientifically proven to reduce the symptoms and inflammation of eczema. Although eczema can not be cured, the symptoms can be treated to reduce discomfort.

Flojaren Digestion is recommended for those taking antibiotics to help replenish the good bacteria in your gut. Antibiotics destroy the good and bad bacteria in your gut, so restoring the good bacteria is essential to reduce bloating, gas, and diarrhea.

Flojaren Women helps maintain the balance for the good bacteria that occurs in the vagina. It has often been said that eating a cup of yogurt a day is a great way to keep the vaginal bacteria and pH balanced, and although that is a great recommendation, 1 Flojaren pill contains as much benefit as eating 10 cups of yogurt.

Flojaren Kids is formulated to help kids maintain balanced intestinal flora that will reduce the discomfort of gas or tummy upset.

Flojaren Acidophilus help maintain the natural balance of bacteria found in the body. This could improve the natural function of the intestines, vagina, and urinary tract.
Since all of these supplements are kept refrigerated until purchase, they also should be stored refrigerated to ensure the quality of the ingredients.
Who Should Take Flojaren?
Anyone over the age of six months can take at least one version of Flojaren. Take a moment to think about what symptoms you are having and would like to address. Also think about what medications you are currently taking, because like anything else, there could be certain medications that will have adverse side effects if taken with the wrong supplements. Always check with your doctor before adding something new to your routine to make sure there are no adverse reactions. Doctors will often point you in the right direction of what kind of supplements can be added for your benefit.