Los miembros de CarePass
TM
Mostrando 1-8 de
8 productos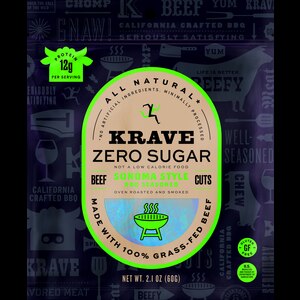 KRAVE Zero-Sugar Sonoma Style BBQ Seasoned Beef Cuts, 2.1 OZ
Krave
Envío gratis con pedidos de $35 o más
Los precios en línea puede ser diferentes a los precios en tiendas.
Krave Jerky
When you want a great tasting snack but are trying to avoid sweets, there are few things better than a good quality jerky. There are a ton of different brands of jerky out there, but for those who want gourmet cuts, Krave Jerky is one of the best. Krave chooses premium cuts of beef and pork, then seasons them with quality ingredients to get the exact flavors and spice levels that people desire. Once ready, they dehydrate the meat so that it can last for extended periods of time with no need for refrigeration. Whether you are looking for a great snack to take with you camping and hiking, or you just want something to enjoy while relaxing at home, you really can't find a better option out there today.
What Is Krave Jerky?
Just about everyone has had beef jerky at one point or another in their lives. Not everyone, however, has had the opportunity to try gourmet jerky. It is often surprising just how much better the taste and texture of a high-quality jerky can be. Even if you were never a fan of jerky in the past, you may find that you really love Krave Gourmet Jerky line. Rather than being terribly tough and difficult to chew, Krave jerky offers a tender cut of meat that has been perfectly seasoned and dried. This allows you to snack on your favorite flavors of meat any time without having to worry about a thing. Even if you don't eat meat, Krave offers vegan-friendly jerky options that give you all the great flavor without the meat! Take some time to look through the flavors that are available from Krave jerky and see which ones you enjoy most.
What Are The Krave Jerky Flavors?
You can choose from many great flavors of Krave jerky. Whether you enjoy sweet, salty, or spicy, there are great options for you. The following are among the most popular Krave jerky flavors to choose from: Sweet Chipotle, Chili Lime , Grilled Teriyaki , Black Cherry Barbecue , Sea Salt , Smoked Chipotle , Sonoma Style BBQ. Try them all to see which one is your favorite. Many of these flavors are available in both beef jerky and pork jerky. They even offer some plant-based vegan-friendly jerky options that many people love. Our Jerky category falls int one of the best, and contact us for any inquiries!
Does CVS Carry Krave Products?
Yes, CVS sells a variety of Krave products in stores and online.
Are Krave Products Available for Same Day Pick Up?
Select Krave products are available for same day pick up at most locations. Check your local stores for availability and add to cart to pick up today.
Does CVS Deliver Krave Products?
Yes, CVS delivers Krave products to your home. Delivery is always free over $35, or join CarePass to enjoy free shipping on a variety of items.
How To Save On Krave Products?
Join CarePass today to save on Krave products. Enjoy great offers and deals when you sign up. Check the weekly deals and download the CVS App today for exclusive coupons!