Los miembros de CarePass
TM
Mostrando 1-4 de
4 productos
Envío gratis con pedidos de $35 o más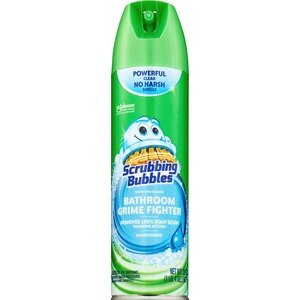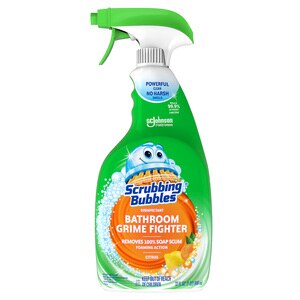 Scrubbing Bubbles Disinfectant Bathroom Grime Fighter Spray, Citrus, 32 fl oz
Scrubbing Bubbles
Compre 1, lleve 1 al 50% - ¡Agregue 2 o más para recibir la oferta!
Envío gratis con pedidos de $35 o más
Scrubbing Bubbles Fresh Gel - Gel limpieza para inodoro con aplicador, Rainshower, 6 u.
Scrubbing Bubbles
Compre 1, lleve 1 al 50% - ¡Agregue 2 o más para recibir la oferta!
o
en pedidos de $35 o más.
Los precios en línea puede ser diferentes a los precios en tiendas.
How To Use Scrubbing Bubbles Bathroom Cleaner
Follow the directions as indicated on the packaging for best results. Scrubbing Bubbles makes a variety of bathroom cleaning products. For sprays, make sure you spray the product several inches away from the surface and let it sit for a few minutes before you rinse or wipe the counters, tub, or shower clean. Follow by rinsing everything with clean water.
How To Use Scrubbing Bubbles Shower Cleaner
To use Scrubbing Bubbles shower cleaner, turn the nozzle to the on position and spray approximately 15 inches from the surface you want to clean. Let the foam penetrate the dirt and soap scum in your shower. If you have stubborn buildup, let the product sit for several minutes before you wipe it clean. Wipe everything dry after rinsing it if desired. When applying the product to chrome, only rinse it with water for a bright shine.
What is Scrubbing Bubbles made of?
The ingredients in Scrubbing Bubbles products may vary depending on the formula you choose. The brand's foaming bleach bathroom cleaner contains purified water, sodium hypochlorite (bleach), alkyl dimethyl amine oxide (a cleaning agent), and baking soda. Some Scrubbing Bubbles products do not contain bleach so read the product label carefully before you make a purchase.
How long to let Scrubbing Bubbles sit?
To penetrate tough soap scum and grime, let Scrubbing Bubbles sit for approximately three to five minutes. Using a scrubbing brush can help to loosen the grime and dirt, then rinse everything clean with water and wipe it dry with a clean, soft towel or cloth.
How Long Is Scrubbing Bubbles Good For?
Most Scrubbing Bubbles products have a shelf life of one year after the package has been opened.
Does CVS Carry Scrubbing Bubbles Products?
Yes, CVS sells a variety of Scrubbing Bubbles products in stores and online.
Are Scrubbing Bubbles Products Available for Same Day Pick Up?
Select Scrubbing Bubbles products are available for same day pick up at most locations. Check your local stores for availability and add to cart to pick up today.
Does CVS Deliver Scrubbing Bubbles Products?
Yes, CVS delivers Scrubbing Bubbles products to your home. Delivery is always free over $35, or join CarePass to enjoy free shipping on a variety of items.
How To Save On Scrubbing Bubbles Products?
Join CarePass today to save on Scrubbing Bubbles products. Enjoy great offers and deals when you sign up. Check the weekly deals and download the CVS App today for exclusive coupons!