Mostrando 1-3 de
3 productos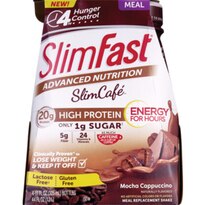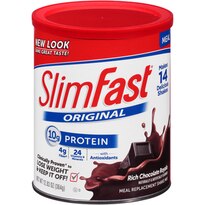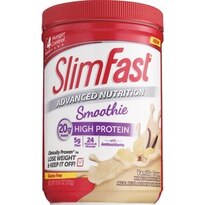 Los precios en línea puede ser diferentes a los precios en tiendas.
What Is SlimFast?
SlimFast is a diet food brand that offers a range of healthy products designed to help you lose weight. The brand carries nutritional shakes, powders, bars, snacks, and meals that you can eat or drink every day as part of a comprehensive weight loss plan. There are various types of SlimFast products geared toward different needs, such as the brand's keto line made for people participating in a keto diet.
How Is SlimFast Good For You?
SlimFast products are high in protein and low in calories which can be an effective way to help you achieve short-term weight loss. While SlimFast can help you lose weight initially, the plan is not optimum nor designed for long-term weight loss. When consuming SlimFast products or following the brand's diet plan, it's important to make sure that you combine it with a healthy lifestyle and other nutritious foods to ensure that you're getting the proper nutrition your body needs.
How Does SlimFast Work?
You can eat all of your favorite foods while following the SlimFast diet plan. No food is forbidden as long as you enjoy it in sensible portions. Supplement your diet by choosing from several SlimFast products like bars, shakes, and smoothies. Each line is formulated to suit different needs, such as the brand's line for diabetics or those on a keto diet. You can consume SlimFast products in between meals to help satisfy your cravings and enjoy the shakes, bars, or smoothies as a healthy meal replacement. All products are portable and ready to eat so you can enjoy them at home or when you're on the go. The SlimFast plan includes consuming six products per day to encourage weight loss while helping you feel full and satisfied.
Does CVS Carry Slim Fast Products?
Yes, CVS sells a variety of Slim Fast products in stores and online.
Are Slim Fast Products Available for Same Day Pick Up?
Select Slim Fast products are available for same day pick up at most locations. Verifique la disponibilidad en las tiendas locales y agregue al carrito para recoger hoy mismo.
Does CVS Deliver Slim Fast Products?
Yes, CVS delivers Slim Fast products to your home. Delivery is always free over $35, or join CarePass to enjoy free shipping on a variety of items.
How To Save On Slim Fast Products?
Join CarePass today to save on Slim Fast products. Disfrute de excelentes ofertas al registrarse. ¡Consulte las ofertas semanales y descargue la aplicación de CVS hoy mismo para obtener cupones exclusivos!