Los miembros de CarePass
TM
Mostrando 1-7 de
7 productos
The Mane Choice The Alpha Multi-Vitamin Scalp Nourishing Growth Oil, 4 OZ
The Mane Choice
Los miembros de CarePass
TM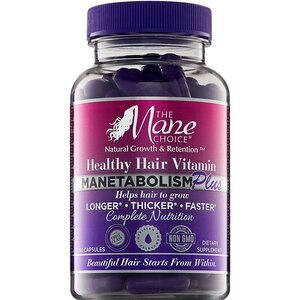 The Mane Choice Manetabolism Plus Healthy Hair Vitamin, 60CT
The Mane Choice
Los miembros de CarePass
TM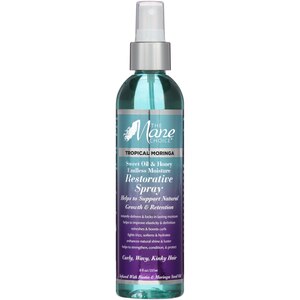 The Mane Choice Tropical Moringa Sweet Oil & Honey Endless Moisture Restorative Spray, 8 OZ
The Mane Choice
Los miembros de CarePass
TM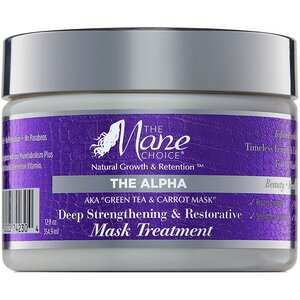 The Mane Choice Green Tea & Carrot Deep Strengthening & Restorative Mask, 12 OZ
The Mane Choice
Los miembros de CarePass
TM
The Mane Choice The Alpha Soft As Can Be Revitalize & Refresh 3-in-1 Co-Wash, Leave In, Detangler, 8 OZ
The Mane Choice
The Mane Choice Easy On the Curls Detangling Hydration Conditioner, 8 OZ
The Mane Choice
Los precios en línea puede ser diferentes a los precios en tiendas.
What is The Mane Choice®?
The Mane Choice® is a line of natural hair care products created by a Physician and Registered Nurse. Founded in 2013, products made by The Mane Choice® are specifically formulated for healthy hair growth and length retention. The brand offers an impressive number of shampoo's, conditioners, leave-in oils, styling products and vitamins for natural and curly hair types.
Which The Mane Choice® line is best?
The "best" Mane Choice® line for anyone is the collection most likely to address their hair concerns. The company has nearly 20 distinctive product lines, each powered by a specific combination of ingredients. For example, The Mane Choice® [link to https://www.cvs.com/shop/brand-shop/t/the-mane-choice] The Alpha line could be your best option if you're looking for products that support manageability and hair growth. Haircare products from The Mane Choice® The Alpha line are fortified with Biotin and essential vitamins. If you prefer a product that supports hair growth from within, consider The Mane Choice® Healthy Hair Vitamins from the Manetabolism Plus line. For boosting moisture retention, products in the Tropical Moringa line could be the best option for your hair care needs.
Are The Mane Choice® products made for natural hair?
The Mane Choice® is a multi-cultural company. Their products are formulated specifically for natural, textured hair and can also be used to help restore chemically treated hair. Formulated for all hair types, The Mane Choice® products help fight shedding and breakage, minimize damage and add shine and luster. Plus, Mane Choice® products are gentle enough for daily use.
Are The Mane Choice® hair vitamins vegan?
The Mane Choice® Manetabolism Plus vitamins are a physician formulated multi-vitamin that supports hair, skin and nails. Although the vitamins contain a range of natural plant extracts, The Mane Choice® Manetabolism vitamins are not vegan. There are 2 animal products listed in the ingredients, shark cartilage and bovine gelatin. While not vegan, the company does specify that their multi-vitamins contain no pork (porcine) products.
How do I use The Mane Choice® green tea and carrot mask?
You can use The Alpha Green Tea & Carrot restorative mask 1-2 times per week. After shampooing, gently massage a generous amount into your hair from roots to ends. Cover your hair with a plastic cap and sit under a dryer for 15 minutes. Then rinse thoroughly and style as usual. If you'd rather use the restorative mask without heat, you can wait up to an hour before rinsing.