Mostrando 1-8 de
8 productos
Celestial Seasonings Sleepytime Extra Caffeine Free Herbal Supplement Tea Bags, 20 CT
Celestial Seasonings
Envío gratis con pedidos de $35 o más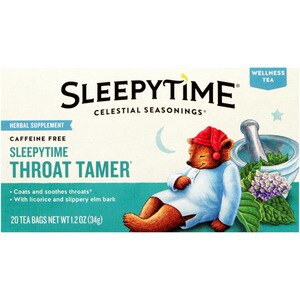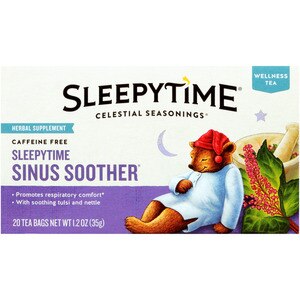 Los precios en línea puede ser diferentes a los precios en tiendas.
Is There Decaf Black Tea?
A cup of natural black tea generally contains between 50 and 90 mg of caffeine. Although black tea does not have as much caffeine as coffee, many people appreciate the option of purchasing decaffeinated tea. The flavor and aroma remain intact, but processing reduces the caffeine content to about 2 mg per cup. To be classified as decaf tea, the caffeine content must be reduced by at least 97%.
There are three possible ways for manufacturers to decaffeinate black tea. Some soak the tea leaves in a chemical or fruit-derived solvent. Organic black tea is often decaffeinated by filtering CO2-infused leaves through a series of pressurized chambers. Although rarely used, the third decaffeination method relies on hot water to strip the caffeine from the tea. However, this method can produce inconsistent results.
What Is Decaf Green Tea?
Many people think of green tea as one of the healthiest beverages on the planet. Green tea leaves are loaded with antioxidants that many researchers believe could help reduce the risk of heart disease and boost cognitive function. Some studies also suggest considerable potential for preventing certain types of cancer and promoting fat loss.
If you're intrigued by the wellness potential of green tea but concerned about caffeine, the news is good. Decaffeinating green tea does not significantly reduce its possible benefits. Although some antioxidants are lost during the process, most remain intact. Since green tea is naturally lower in caffeine than black, the possible health benefits of decaffeinated green tea weigh in at just 1-2 mg of caffeine per cup.
Are Herbal Teas Decaffeinated?
Green tea, white tea, and black tea are all made from the leaves of the same plant, camellia sinensis. Decaffeinated teas are made with the leaves of a caffeine-producing plant, but the caffeine is reduced to very small amounts during the decaffeination process. In the true sense of the term, herbal tea is not tea at all, so there's no need to decaffeinate it.
Herbal tea is made from the leaves, bark, fruit, or flowers of an edible plant. Chamomile, lavender, and mint are among the most popular. Since they're not made with tea leaves, most herbal teas are naturally caffeine-free. However, there are exceptions to most rules. You will find a few herbs that might require looking for a decaffeinated version. Yerba mate, guarana, and yaupon holly are quite high in caffeine.