Cómo conseguirlo
Recogida no disponible
Cambiar tienda
Los miembros de CarePass
TM
Mostrando 1-4 de
4 productos
CVS Health - Cojín de goma inflable, uso médico
CVS Health
Precio con CarePass
™
$14.79
o
en pedidos de $35 o más.
Hermell Products - Anillo de confort de espuma, blanco, de 16-1/4 x 13"
Hermell Products
Envío gratis con pedidos de $35 o más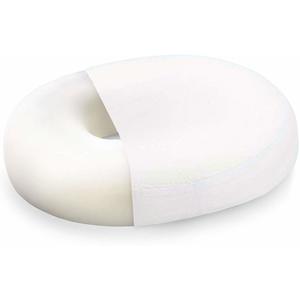 DMI Contoured Foam Ring Cushion 16 in. x 13 in. x 3 in., White
DMI
Envío gratis con pedidos de $35 o más
Bluestone - Cojín de espuma viscoelástica en forma de dona con funda de terciopelo gris con cierre
Piedra azul
Envío gratis con pedidos de $35 o más
Los precios en línea puede ser diferentes a los precios en tiendas.
Hemorrhoid Donut Pillows
Are hemorrhoids making it difficult for you to sit comfortably at work, relax at home or travel by car, plane or train? Hemorrhoid cushions or pillows can help to alleviate pain, so that you can focus more on your day while your hemorrhoids heal. At CVS, you'll find a diverse assortment of hemorrhoid cushions available for you to buy online and have discreetly shipped to your home.
What Are Hemorrhoids?
Hemorrhoids are inflamed veins that develop around the opening of the anus and/or inside of the rectum. If you have an external hemorrhoid, you may be able to feel a lump or notice general swelling around your anus. A hemorrhoid can also cause pain, itching or throbbing. Bright red blood may also be present in your toilet or on toilet paper after bowel movements if you have a hemorrhoid. It's important to note that if you notice blood in the toilet after a bowel movement you should contact your doctor. Obesity, pregnancy, straining when moving your bowels, long periods of sitting, low fiber diets and anal intercourse can all contribute to hemorrhoids. A medical provider can help to determine the cause of your hemorrhoids and recommend the best treatments for addressing the problem.
How Hemorrhoid Pillows Help
Hemorrhoid pillows or cushions are frequently recommended for people with hemorrhoids who are experiencing pain while sitting. A pillow or cushion places padding beneath your buttocks, which can reduce pressure on hemorrhoids. This can take the pain out of sitting at work, at home or in a vehicle.
Hemorrhoid Cushion Materials
One of the first things to consider when shopping for a hemorrhoid pillow is materials. Rubber and vinyl rings are one option. Hemorrhoid cushions made out of these materials must typically be inflated either with the air in your lungs or a pump. When deflated, inflatable hemorrhoid pillows are easy to store and transport. Because you inflate these cushions yourself, you can customize the level of firmness to meet your needs. If you wish to avoid having to inflate your hemorrhoid cushion, you can opt for a pillow made of foam. These cushions sometimes feature removable machine-washable fabric covers for easy cleaning.
Hemorrhoid Pillow Sizes
Another feature to consider when shopping for a hemorrhoid cushion is size. You'll need to purchase a cushion that is ideally sized to fit under your buttocks comfortably. In addition, the pillow should be smaller than the seat where you intend to place it. To ensure an ideal fit, it is a good idea to measure your chair before shopping for hemorrhoid pillows.
Búsquedas relacionadas
hemorrhoid cream, hemorrhoid suppositories, hemorrhoid donuts