Cómo conseguirlo
Recogida no disponible
Cambiar tienda
Los miembros de CarePass
TM
Mostrando 1-9 de
9 productos
Envío gratis con pedidos de $35 o más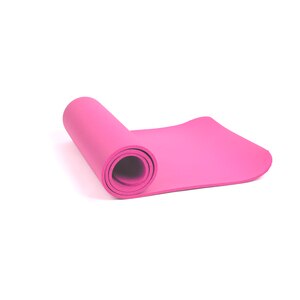 Envío gratis con pedidos de $35 o más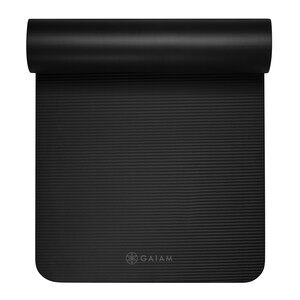 Gaiam 10mm Fitness Mat, Black
Gaiam
Envío gratis con pedidos de $35 o más
Los precios en línea puede ser diferentes a los precios en tiendas.
Yoga Mats
Whether you're brand-new to the world of yoga or consider yourself an expert, yoga mats are an essential part of any routine whether that be for hot yoga, pilates, or a regular workout at the gym. These soft, lightweight yoga mats come in a wide variety of colors, designs, sizes, and thickness levels. Before you purchase a new yoga mat, there are lots of things to consider. It's always a good idea to determine which type of yoga mat will work best for your specific needs before you buy.
Different Types Of Yoga Mats
Some yoga mats are ultra-thin and come in compact, travel-friendly styles. These super-light yoga mats weigh around two pounds, while heavier versions or thick yoga mats can be as much as seven pounds. The standard mat is about 1/8-inch thick and works well for beginners. No matter what type of yoga mat you choose, make sure it gives you the stability you need when you're doing your routine. The yoga mat should provide you with a layer of support and comfort when it makes contact with the floor, and should be non slip to avoid your yoga mat moving around so much when practicing yoga or pilates, or during an intense workout.
Travel yoga mats are much thinner than most, but they're perfect for those moments at the hotel when you're out of town and need to do a quick session. Thick yoga mats have extra cushion. This extra thick yoga mats are best used for therapeutic yoga and gives you support for kneeling and forearm poses. Thin yoga mats tend to do better when you're working on a balancing or standing pose. The most inconvenient part of some yoga mats during hot yoga or intense workouts are that you begin to slide around as you are working out, usually caused by excessive sweat. While there are some non slip yoga mat options, many yogis opt for a yoga towel when practicing yoga to catch that extra sweat during yoga classes.
Best Yoga Mat For You
Most thick yoga mats tend to last longer than thin ones, but it's important to find one that features a material you like. PVC yoga mats are made of a highly durable material that gives you an amazing floor grip, and they're very easy to clean. The downside to PVC yoga mats is that they can become slippery if they get wet. A yoga mat made of TPE or thermoplastic elastomer is comprised of a combination of plastic and rubber polymers. These yoga mats are environmentally friendly and can be recycled once they've reached the end of their lifespan.
You can also find eco yoga mats made of natural materials like organic cotton or jute. They're not as grippy as their plastic counterparts, but they do provide you with great traction. They don't last as long as most synthetic yoga mats, but if the environment is your first priority, eco yoga mats are the way to go. As long as you choose a yoga mat that suits your routine and travel needs, you'll be able to work on any pose in comfort while you get the stability and support you need. CVS offers a variety of yoga mats from brands like Gaiam, browse online or in store to find the best yoga mat for you!
Búsquedas relacionadas
exercise mats, herbal diuretic, herbal soap, ruleros térmicos, huang lian