Los miembros de CarePass
TM
Mostrando 1-7 de
7 productos
Australian Gold - Loción mineral botánica de protección solar para el rostro, con color, FPS 50, 3 oz
Australian Gold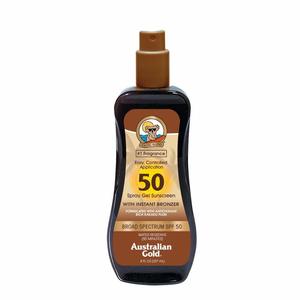 Australian Gold - Protector solar gel en spray con FPS 50, con bronceador instantáneo, 8 oz
Australian Gold
o
en pedidos de $35 o más.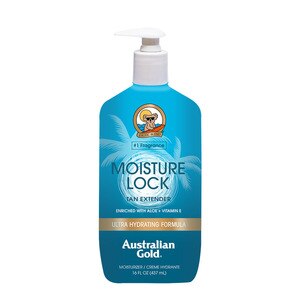 o
en pedidos de $35 o más.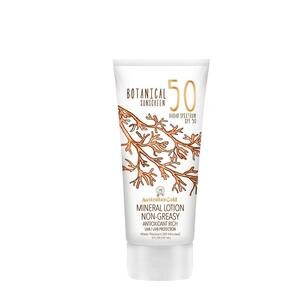 o
en pedidos de $35 o más.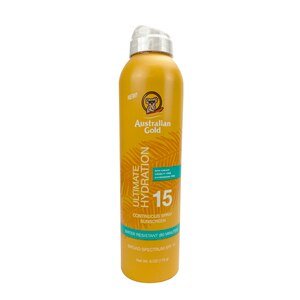 o
en pedidos de $35 o más.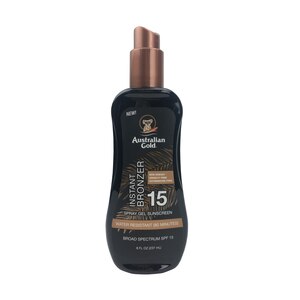 Australian Gold Spray Gel Sunscreen With Instant Bronzer, 8 OZ
Australian Gold
o
en pedidos de $35 o más.
Australian Gold Continuous Spray Sunscreen With Instant Bronzer, 6 OZ
Australian Gold
o
en pedidos de $35 o más.
Los precios en línea puede ser diferentes a los precios en tiendas.
Australian Gold Sunscreen
Australian Gold Sunscreen products were first sold in small surf shops in Florida. Now, the brand has widened its distribution to meet the demand for quality sun care products. If you are searching for the best sunscreen for you, Australian Gold Sunscreen offers a variety of sunscreens to help keep you protected from the sun and its rays.
Australian Gold Tinted Sunscreen
Tinted sunscreen combines UV filters with added pigments to give the skin a glowing and more even look. This product is perfect for anyone who wants to look good without putting on too much foundation. Not only will it make your skin more radiant, but it will also protect you from artificial light and sunlight. Australian Gold Tinted Sunscreen is amazing for people who are prone to melasma and other skin pigmentation issues. These happen because of their skin's inability to block visible light. Australian Gold Botanical SPF 50 Tinted Face Mineral Lotion is a non-chemical sunscreen lotion that has a very luxurious powdery feel. It is specially designed for people who have sensitive facial skin. This sunscreen is both non-comedogenic and fragrance-free. This sunscreen SPF is also rich in antioxidants from native botanical ingredients, and it can stay water-resistant for up to 80 minutes.
Australian Gold Tanning Lotion
Australian Gold carries numerous tanning lotion and mousse products. One of their most popular ones is the Instant Sunless Lotion. This is perfect for people who want to have a sunkissed glow without exposing themselves to the sun. It contains a deep darkening color blend that looks natural. This product also contains vitamin C, Kakadu plum, and shea butter to help repair the skin and give it a boost of moisture. Australian Gold Moisturizer Lock Tan Extender lotion is another staple fro this company, giving you a water resistant, instant bronzer all over your body, with daily use. It does not have SPF, so this should be used after a protected day in the sun for the best skin care results to have that tan lasting longer Australian Gold Rapid Tanning Intensifier Lotion is designed with Biosine Complex that enables it to deliver an intense color. This tanning lotion contains aceite del árbol de té, vitamin C, and áloe vera. It also has a signature scent which is a combination of coconut, orange, and vanilla. This instant bronzer will leave you glowing, and feeling like your personal care routine is perfected.
Australian Gold Botanical Sunscreen
Since Australia Gold launched, they have made it their mission to make people understand the amazing benefits of mineral sunscreens. These sun care products set themselves apart from chemical sunscreens because instead of absorbing the sun's rays, they deflect and scatter UVA and UVB rays. Australian Gold's botanical sunscreen line contains three powerhouse ingredients, namely Kakadu plum, red algae, and eucalyptus. Add this to your next grocery shopping list alongside any other Australian Gold products like balms, moisture lock tan sprays, spray gel sunscreen, broad spectrum SPF, water resistant sunscreen, and even plant based topicals.
Does CVS Carry Australian Gold Products?
Yes, CVS sells a variety of Australian Gold products in stores and online.
Are Australian Gold Products Available for Same Day Pick Up?
Select Australian Gold products are available for same day pick up at most locations. Check your local stores for availability and add to cart to pick up today.
Does CVS Deliver Australian Gold Products?
Yes, CVS delivers Australian Gold products to your home. Delivery is always free over $35, or join CarePass to enjoy free shipping on a variety of items.
How To Save On Australian Gold Products?
Join CarePass today to save on Australian Gold products. Enjoy great offers and deals when you sign up. Check the weekly deals and download the CVS App today for exclusive coupons!