Los miembros de CarePass
TM
Mostrando 1-4 de
4 productos
PureBaby Microwave Bottle Sterilizer - Fast and Easy Natural Steam Sterilizer, 8 Bottle Capacity, BPA Free - Ideal for Bottles, Pacifiers, Training Cups, and Breast Pump Parts
Pure Enrichment
Envío gratis con pedidos de $35 o más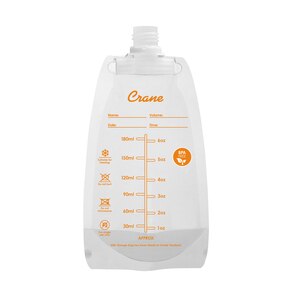 Crane Milk Storage Bags - 30 Bags
Crane
Envío gratis con pedidos de $35 o más
Los precios en línea puede ser diferentes a los precios en tiendas.
Baby bottle sterilizer
As a parent, it's important to make sure that your little one is healthy. Using a baby bottle sterilizer can help to prevent the spread of harmful germs and bacteria to keep your baby safe. You don't have to use a baby bottle sterilizer; however, the CDC recommends sterilizing bottles and all bottle parts (including pacifiers) at least once per day if your baby is three months old or younger. Babies born prematurely or those with a weakened immune system should also have their bottles sterilized. Ideally, you should use your baby bottle sterilizer between feedings to keep it clean. They're also a handy way to clean bottles when you're staying somewhere out of town, such as a hotel without a full kitchen. Many bottles are dishwasher safe, but during those 'in-between' times, a santizer designed to clean baby bottles is essential. Always make sure that you clean the bottles, pacifiers and accessories before using the baby bottle sterilizer just to prevent excess residue from accumulating inside of the device.
How to use a baby bottle sterilizer
There are many ways you can sterilize baby bottles including using boiling water, in the microwave, or using bleach, although it's not recommended unless you have no other way to clean them at the time. Using a baby bottle sterilizer is an easy way to clean your little one's bottle to ensure safe feedings. Most models use steam to kill germs and keep the bottles clean. How you use the sterilizer will depend on the brand, so always be sure to read the manufacturer's instructions for use carefully before you begin. To use a baby bottle sterilizer, always rinse the bottle and all components first using clean water, then place the bottles inside of the sterilizer with the opening facing downward. Add the recommended amount of water per the instructions, then replace the lid and turn the unit on. Leave the sterilizer on for the specified amount of time listed, although most baby bottle sterilizers have an automatic timer built-in so the unit turns itself automatically once the sterilizing process is complete. Allow the bottles to cool down and dry thoroughly before using them again. Most bottles are microwaveable and can be used to warm milk, and are also BPA free, to ensure your child is receiving a clean, sterilized way of eating. Lastly, try using an electric baby bottle to relieve any last bit of stress during feeding time.
Búsquedas relacionadas
breast milk storage, breast pads, reusable water bottles, cacao, almohadillas térmicas