Los miembros de CarePass
TM
Mostrando 1-16 de
16 productos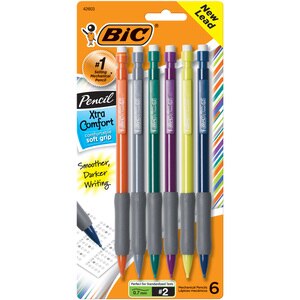 BIC Xtra Comfort Soft Grip 0.7mm Mechanical Pencils, 6 CT
BIC
Envío gratis con pedidos de $35 o más
Limit 4 per order
Envío gratis con pedidos de $35 o más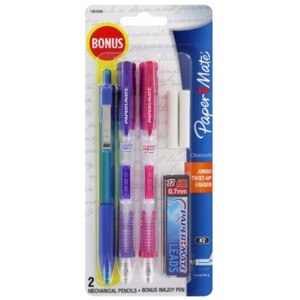 Paper Mate Clearpoint Mechanical Pencils, 0.7mm, HB #2, with Bonus InkJoy 300RT Blue Ballpoint Pen, 2 + 1 Pack
Paper Mate
Los miembros de CarePass
TM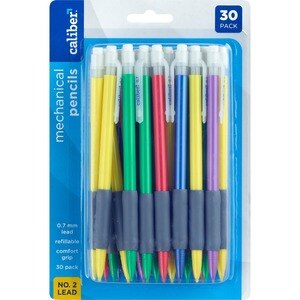 Caliber Mechanical Pencils, .7mm Lead, 30 CT, Assorted Colors
Caliber
Compre 1, lleve 1 al 50% - ¡Agregue 2 o más para recibir la oferta!
Los miembros de CarePass
TM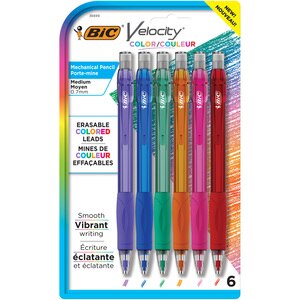 BIC Velocity Mechanical Pencil with Colored Leads, 0.7 mm, 6-Pack, 6 Vibrant Colors, Perfect for Drawing and Journaling
BIC
Los miembros de CarePass
TM
BIC PrevaGuard Media Clic #2 Mechanical Pencil, Medium Point (0.7mm), 4-Count, Smooth Writing, Contains Built-In Protection on the Pen
BIC
Los miembros de CarePass
TM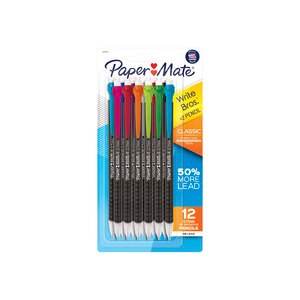 PaperMate Write Bros. Classic Mechanical Pencils, 0.7mm, 12 CT
Paper Mate
Los precios en línea puede ser diferentes a los precios en tiendas.
What is a mechanical pencil?
A mechanical pencil looks more like a pen than a standard wooden pencil. Inside each casing, a mechanism advances a thin piece of graphite (lead) through the core. Mechanical pencils are often favored by students, artists, writers, and other professionals because they never need sharpening. Most mechanical pencils work in one of three ways. You'll either need to twist the barrel, shake the pencil, or click a locking mechanism to advance the lead. At CVS, you'll find disposable and refillable mechanical pencils made by some of the most popular brands, including Bic Mechanical Pencil®, Uni-Ball®, Paper-Mate®, Zebra, Bic Xtra, and Paper Mate.
How does the length compare to a standard pencil?
An unsharpened wooden (or plastic) pencil is about 7.5 inches (19 cm) long. That measurement typically includes the eraser. Most have a diameter of just under 3/8ths of an inch. Mechanical pencils are considerably shorter.
Although mechanical pencil dimensions can vary by manufacturer, most are between 5.5 and 6 inches long. Between brands, the diameters of mechanical pencils are less consistent. But unlike pencils made of wood, the length, weight, and feel never changes.
How do mechanical pencils compare to number 2 pencils?
Number 2 pencils are usually at the top of nearly every back-to-school shopping list. They're often required when students take standardized tests scored by a machine. The number printed just below the eraser specifies the density and texture of the graphite. Number 2 pencil marks erase easily but resist smearing and smudging.
Mechanical pencils can be used in nearly any situation that requires a standard number 2 pencil. It's the lead that matters, not the casing. Most companies label their mechanical pencils (and refills) to make compatible products easy to identify. If you don't see "#2" printed on the package, look for an "HB" on the label. HB is the international equivalent of #2 lead. Once you know what to look for, equivalent products are easy to find.
Which mechanical pencil is best for students?
Mechanical pencils are suitable for most students. But there are several factors to consider when choosing between products. Many parents of young students prefer inexpensive disposables. Disposable mechanical pencils are easily replaced when lost and discarded when they no longer write. Older students often appreciate refillable models because they're cost-effective and environmentally friendly. Some students will eventually favor a specific point size, a number specified in millimeters. The larger the number, the thicker the lead. Mechanical pencils also have numerous benefits, including a rubber grip at the bottom, premium lead, are offered in xtra precision, are offered in prints and colors like pastels and zebra, and are now offered as colored pencils!