Prueba de antígeno de COVID-19 BinaxNOW para hacerse uno mismo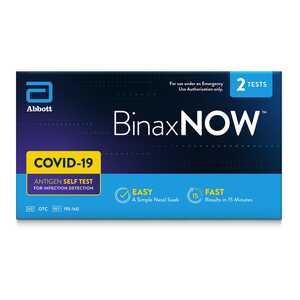 Prueba de antígeno de COVID-19 BinaxNOW para hacerse uno mismo
1 c/u, 22 lb. N.º de artículo 550147
Supply is very limited. To help serve as many as we can, we have a purchase
limit of 6 test kits
per transaction. Please note, we are
not
accepting returns for COVID-19 test kits.
COVID-19 home tests are now covered by select insurance plans*.
Please contact your insurance provider to confirm eligibility and get information about your insurer's claim submission process.
*Applies to fully-insured and self-insured group and individual coverage, including FEHB plans until the end of the public health emergency. Does not apply to Medicare and Medicaid plan coverage.
Ya en venta en algunas sucursales con atención desde el auto. ¡Qué práctico!
Elegible para HSA/FSA
This product has limited daily supply online. If out of stock, please check back daily for updated availability.
Una solución simple para detectar una infección de COVID-19 con resultado rápido en la comodidad de su casa. Esta prueba recibió la Autorización de Uso de Emergencia de la FDA para hacérsela uno mismo sin necesidad de enviar muestras a un laboratorio ni obtener una receta de su proveedor de atención médica. Esta prueba con resultados en 15 minutos se puede hacer en cualquier momento y lugar. Simplemente hágase la prueba usted mismo dos veces en un plazo de 3 días, dejando pasar al menos 36 horas entre una prueba y la otra.
Detecta varias cepas de COVID-19, incluso la variante Delta*
*Abbot realizó un análisis computacional de la detección de varias cepas de SARS-COV-2, incluso la variante Delta, y predice que no habrá ningún impacto en el desempeño de nuestra prueba de antígeno de COVID-19 BinaxNOW™ para hacerse uno mismo.
1. Prepárese para la prueba
2. Tome la muestra nasal o ayude a otra persona a tomarla si necesitase ayuda
3. Haga la prueba
4. Vea el resultado a los 15 minutos
5. Hágase de nuevo la prueba dentro de los tres días (dejando pasar al menos 36 horas entre una prueba y otra). Lea las instrucciones completas en el prospecto del producto.
Advertencias
The BinaxNOW™ COVID-19 Antigen Self Test has not been FDA cleared or approved. It has been authorized by the FDA under an emergency use authorization. It has been authorized only for the detection of proteins from SARSCoV-2, not for any other viruses or pathogens, and are only authorized for the duration of the declaration that circumstances exist justifying the authorization of emergency use of in vitro diagnostics for detection and/or diagnosis of COVID-19 under Section 564(b)(1) of the Federal Food, Drug and Cosmetic Act, 21 U.S.C. §360bbb-3(b)(1), unless the declaration is terminated or authorization is revoked sooner. BinaxNOW COVID-19 Antigen Self Test should be performed twice in 3 days, at least 36 hours apart. © 2021 Abbott. Todos los derechos reservados. BinaxNOW is a trademark of Abbott and used with permission. Any photos displayed are for illustrative purposes only. Any person depicted in such photos is a model.
*Customer reviews and ratings solely reflect the views and opinions of the individual contributors and are not created or endorsed by CVS Pharmacy. Please review the product labeling and consult with your doctor with any health or medical questions.
Will this COVID 19 Test Hurt?
No, when the foam end of the swab is inserted, the nasal swab is not sharp and it should not hurt. Sometimes the swab can feel slightly uncomfortable or tickly. If you feel pain, please stop the test and seek advice from a healthcare provider.
What is the Difference Between an Antigen and Molecular Test?
There are different kinds of tests for COVID-19. Molecular tests (also known as PCR tests) detect genetic material from the virus. Antigen tests detect proteins from the virus.Antigen tests are very specific for the virus but are not as sensitive as molecular tests.
What is the performance of the BinaxNOW COVID-19 Test?
The BinaxNOW COVID-19 Self Test is identical to the professional-use test, used since August 2020, bringing the most studied and widely used rapid antigen test to retail shelves across the country.
What do sensitivity and specificity of a COVID test mean?
Sensitivity refers to a test's ability to designate an individual with disease as positive. Specificity of a test is its ability to designate an individual who does not have a disease as negative.
What ages is this At Home COVID 19 test approved for use?
The test is indicated for all people aged 15 years or older and for children as young as two years old when samples are collected by an adult.
Will my insurance reimburse this COVID 19 test?
The test is available for a low cost, overthe-counter without a prescription and is not currently covered by insurance.
Will this test tell me if I have been infected with COVID-19 in the past?
No, this is an antigen test that only detects an active infection. Antibody tests can detect past infections.
Can I use this COVID test to meet travel requirements for testing?
No, this is for personal use only and doesn't provide a documented test result that you can display when traveling. For a documented test result the BinaxNOW COVID-19 Ag Card Home Test may be a better Combined with the NAVICA App and with a negative result, you will have a digital result that may meet travel requirements. This test is offered by eMed, please visit www.emed.com for further information.
Does the product expire? How long is it good for?
Each product box has an expiration date and should not be used after that date.
Do I need any additional supplies to conduct the test at home?
Yes, you will need a timer/watch and it is recommended that gloves are worn during testing.
What is COVID Serial Testing?
COVID-19 Serial testing is when one person tests themselves multiple times for COVID-19 on a routine basis, such as every day or every other day. By testing more frequently, you may detect COVID-19 more quickly and reduce spread of infection.
What do I need to know about Results from Serial Testing?
If your first test is negative, you should test again within 3 days, with at least 36 hours between tests. If your first or second test is positive, then proteins from the virus that causes COVID-19 have been found in your specimen and you likely have COVID-19. If you test positive with the BinaxNOW COVID-19 Antigen Self Test, you should self-isolate and seek follow-up care with your healthcare provider to determine the next steps you should take. You may need additional testing, depending on your personal health history and other factors.
What is Emergency Use Authorization (EUA)?
FDA emergency access mechanism.
Health & Human Services declare when circumstances exist to justify use of diagnostics under
EUA during public health emergencies.
It is not full FDA clearance or approval and is temporary, until the declaration is terminated or revoked.
Does this test detect the new COVID variants?
Abbott is intently monitoring the mutations of COVID so we can ensure our tests can detect them, as we do with many viruses. We have conducted a thorough analysis of known variants that we've been able to study, and we are confident that our tests remain effective at identifying these strains. It is highly likely that future COVID-19 strains will remain detectable because our tests - and most other COVID-19 tests - look for parts of the virus that are crucial for the virus' survival and therefore less subject to mutation.
What is the difference between this test and other COVID-19 tests that can be performed at home?
The BinaxNOW COVID-19 test is the most studied and widely available test in the U.S. today. Results are available in just 15 minutes without having to send the sample away for collection. It's easy-to-use with a minimally invasive nasal swab and is available over-the-counter without a prescription.
How many COVID-19 home tests come in a package?
The test will come in a 2-count box.
How is this COVID test administered?
Using the BinaxNOW COVID-19 Antigen Self Test is simple, even for people who have never tested themselves. People will only need to perform a minimally invasive nasal swab (not the deeper nasopharyngeal swab) and all materials required to perform the test (swab, test card, and reagent solution) will come in the box. Each test kit will include an illustrated quick reference guide that provides step-by-step instructions on how to use the test.
Who should use this at home COVID test?
The test can be used for people with and without symptoms.
Should people who were vaccinated use this test?
BinaxNOW will be a key tool alongside vaccination as we get back to life. We don't yet know how long the vaccine confers immunity for and how variants will evolve.
How will people report their COVID 19 test results if they're positive?
People are encouraged to follow the latest CDC guidelines, which is to communicate your results to your healthcare provider, who is responsible for reporting your test results to the state health department.
Why is the BinaxNOW COVID-19 indicated for "serial testing" and what does serial testing mean?
Serial testing means that people should test themselves frequently, so that if they're positive, they can catch themselves at the beginning of their infection and, hopefully, before they transmit it to others. By having our test indicated for serial testing, it offers an added layer of protection. That's why each box comes with two tests in it.
Do I need to perform more than one BinaxNOW COVID-19 Antigen Self Test?
The BinaxNOW COVID-19 Antigen Self Test is indicated by the FDA for serial testing, meaning that people should test themselves frequently. The tests should be administered twice over three days with at least 36 hours between the two tests. When combined with vaccines and other public health precautions, frequent testing can help restore a sense of safety as Americans get back to gathering together.
How long should people wait between taking BinaxNOW COVID-19 Antigen Self Tests?
The tests should be administered twice over three days with at least 36 hours between tests.
Do people need to consult a doctor or another healthcare professional before purchasing and conducting a test?
No, this test does not require a prescription from a medical professional. However, if you have questions about your health or the results of your test, you should contact you doctor. If you receive a positive result, you should contact your healthcare professional for next steps.
Can more than one test be purchased at a time?
The BinaxNOW COVID-19 Antigen Self Test is indicated by the FDA for frequent testing, which is why Abbott has made them available as a 2-count box.
Can people use HSA/FSA accounts to purchase the BinaxNOW COVID-19 test?
That's up to individual insurance companies to determine. Some cover other OTC products so individuals would need to reach out to their provider to determine coverage.
Prueba de antígeno de COVID-19 BinaxNOW para hacerse uno mismo