Cómo conseguirlo
Recogida no disponible
Cambiar tienda
Mostrando 1-9 de
9 productos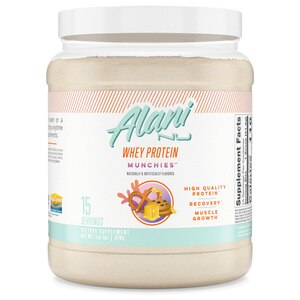 Alani Nu Whey Protein Powder, Gluten-Free, Low Fat Blend of Fast-digesting Protein, 15 Servings
Alani Nu
Envío gratis con pedidos de $35 o más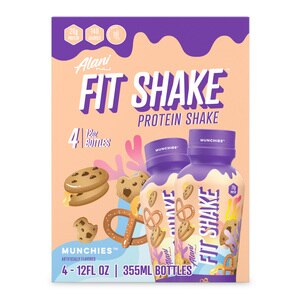 Alani Nu Fit Shake Protein Shake - 12 fl oz Bottle, 4 Pack
Alani Nu
Envío gratis con pedidos de $35 o más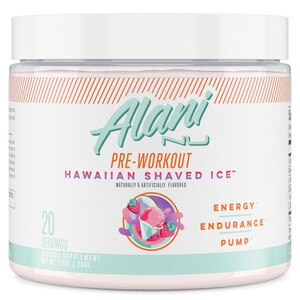 Alani Nu Pre-Workout Supplement Powder for Energy, Endurance, and Pump, 20 Servings
Alani Nu
Envío gratis con pedidos de $35 o más
Los precios en línea puede ser diferentes a los precios en tiendas.
Alani Nu Products
Alani Nu products focus on providing supplements that help with weight loss, maintain optimum body energy levels, balance hormones, and regulate body functions. Several supplements and products are offered and tailored to help meet women's health needs. Some of the top-rated products released on the market by the organization include the Alani Nu Pre-workout, Alani Nu energy drink, Alani Nu protein bars, and the Alani Nu protein shake. Use of these products can be a beneficial way to maximize health and body functions and take charge of your body's healthy development.
Alani Nu Pre Workout
Alani Nu provides a wide variety of pre-workout supplements. Each is packed with 200 milligrams of caffeine to put you in the right mindset and motivate you towards pushing your workouts to the limit even on your busiest and tightly scheduled days. These pre-workout supplements provide the energy needed to finish strong without any side effects. Pre-workout flavors include Rainbow Candy, Hawaiian Shaved Ice, Carnival Candy Grape, and Witches Brew flavors.
Alani Nu Energy Drink
Alani Nu energy drinks are versatile because of their unique manufacturing process, enabling enhanced effectiveness and potency. While competitors' products may contain up to 200 calories, Alani Nu energy drinks are made using zero sugars and 100 calories. Alani Nu energy drinks are great after a long day at the office or during regular workouts to boost your energy and keep you refreshed. Flavors include Sour Peach Rings, Cosmic Stardust, Hawaiian Shaved Ice, and Tropsicle.
Alani Nu Protein Bars
Alani Nu also produces low-carb protein bars that combine high-quality natural ingredients with unique flavors, 16g of proteins, 6g of sugar, and 200 calories. They contain essential nutrients and minerals such as sodium, dietary fiber, cholesterol, and carbohydrates. These bars are recommended as a quick snack to help you stay on your feet and enhance your energy while providing extraordinary nutritional value. Some of the assorted flavors include Munchies, Confetti Cake Bar Flavor, Chocolate Cake, Blueberry Muffin, Peanut Butter Crisp, Fruity Cereal, and Cookies and Cream.
Alani Nu Protein Shake
Alani Nu protein shakes are a premium blend of isolated proteins and concentrated milk powder that contribute to their high nutritional value. Alani Nu protein shakes are lactose-free, gluten-free, have about 120 calories, and are manufactured without artificial chemicals. They supply your body with nourishment and replenish your nutrient reserves in a convenient on-the-go drink. Many flavors are available, including Vanilla, Cookies and Cream, Fruity Cereal Chocolate, and Peanut Butter Brownie.