Help combat allergens year round with Flonase products from CVS. Get allergy relief and help prevent allergy symptoms with this trusted nasal spray brand, recommended by many health care professionals.
Los miembros de CarePass
TM
Mostrando 1-5 de
5 productos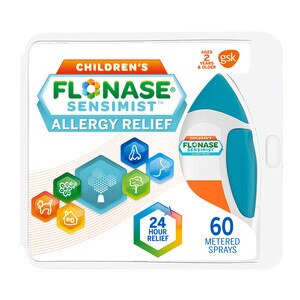 Los precios en línea puede ser diferentes a los precios en tiendas.
Flonase Nasal Spray
Flonase Nasal Spray is a nasal spray product specially formulated to help provide you with effective relief from nasal and eye-related allergy symptoms.
Flonase Dosage
Flonase sprays may provide 24-hour allergy relief, and doses vary between formulas. Always follow the dosing directions as indicated on the manufacturer packaging according to your age and specific needs. Most products require just one to two sprays per day.
Flonase Side Effects
Side effects from using Flonase are rare, however, some of the most common side effects include headache, sore throat, sneezing, or cough. You may also experience back pain, nausea, nosebleeds, vomiting, or sinus pain. Some people reported sores or white patches inside the mouth and/or around the nose. If you notice a skin rash, itching, or facial swelling, stop using Flonase and contact your doctor right away.
What Is Flonase?
Flonase is a synthetic steroid that is formulated to help control the symptoms of allergic and non-allergic rhinitis. The ingredients are part of the glucocorticoid family of drugs, and it's available as an over-the-counter product as a generic drug.
How to Use Flonase
To use Flonase, start by blowing your nose to clear your nostrils. Gently shake the bottle and remove the cap. Point the bottle away from your face and press the lid down to release the spray. Pump the lid until a fine mist comes out and insert the number of pumps recommended into each nostril. If you pump the lid six times or more and no spray comes out, the bottle may be clogged. Clean the nozzle thoroughly before re-attempting to use the spray.
What Does Flonase Do?
Flonase works to help relieve the symptoms of rhinitis such as a stuffy, runny, or itchy nose and itchy, water eyes cause by allergies and hay fever. If you're allergic to mold, dust, pollen, or pet dander, Flonase can help you get relief. It works by blocking the release of specific natural substances that can cause allergy symptoms and allergic reactions.
How Often Can You Use Flonase?
Dosage may vary, but you can use two sprays of Flonase once per day for the first week of allergy symptoms, then reduce it to just one spray per day as symptoms subside. Never use more than the recommended amount each day and follow the directions carefully to ensure you're getting the proper dose you need. If symptoms persist after two weeks, you can increase the dose back to two sprays per nostril, per day.
Does CVS Carry Flonase Products?
Yes, CVS sells a variety of Flonase products in stores and online.
Are Flonase Products Available for Same Day Pick Up?
Select Flonase products are available for same day pick up at most locations. Check your local stores for availability and add to cart to pick up today.
Does CVS Deliver Flonase Products?
Yes, CVS delivers Flonase products to your home. Delivery is always free over $35, or join CarePass to enjoy free shipping on a variety of items.
How To Save On Flonase Products?
Join CarePass today to save on Flonase products. Enjoy great offers and deals when you sign up. Check the weekly deals and download the CVS App today for exclusive coupons!