Los miembros de CarePass
TM
Mostrando 1-9 de
9 productos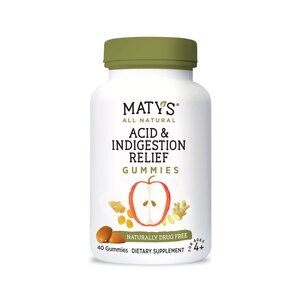 Maty's All Natural Acid & Indigestion Relief Gummies, Drug Free, 40 CT
Maty's
Envío gratis con pedidos de $35 o más
Los precios en línea puede ser diferentes a los precios en tiendas.
Maty's All Natural
Maty's is a company started by Carolyn, a mother of two boys and one girl. Her daughter, Maty, was born with severe congenital heart defects and had several surgeries, illnesses, and hospitalizations in her first five years of life. On top of that, Carolyn was diagnosed with rheumatoid arthritis. After her daughter developed an illness that could not be helped with modern medicine, Carolyn knew she had to do something different for her daughter. She was frustrated with modern medicine. This was when she started creating all-natural products to help her family to heal. She spent countless time researching and testing natural combinations and remedies. She has made it her mission to help as many people as she can in reversing the unhealthy path that has been forged by modern medicine. She wants to give parents alternatives that are natural and organic. Maty's Organic & All Natual offers medicine for the following:
Inmunología

Tos

Digestion

Topicals

Teething
Maty's Baby Chest Rub
Maty's Baby Chest Rub can help ease your baby's sniffles. It will give gentle comfort and soothing to your baby. This vegan, gluten-free chest rub is dermatologically tested and not tested on animals. There are good, natural ingredients in this chest rub, including:
Essential oils:

Lavanda

Eucalyptus

Manzanilla

Dill weed

Radiate

Patchouli

Coriander

Sunflower oil and sunflower wax

Coconut oil

Castor oil

Vitamina E
This chest rub can be used on infants as young as three months and is free of menthol and petroleum.
Maty's Cough Syrup
Maty's Cough Syrup can help clear out your little one's throat, soothing it as it goes down. It is created with immune-boosting ingredients, all from nature. There are many types of cough syrup available from Maty's:
All-Natural Children's Cough Syrup

All-Natural Children's Goodnight Cough Syrup

Organic Mucus Cough Syrup

Organic Nighttime Cough Syrup

Organic Coco Mint Cough Syrup

Organic Children's Mucus Cough Syrup

Organic Children's Goodnight Cough Syrup

Organic Children's Cough Syrup

Day and Nighttime Packs
Maty's Baby Ointment
Maty's All Natural Baby Ointment is a multipurpose ointment. It nourishes and protects your baby's dry skin, even if their skin is sensitive. It is a vegan, gluten-free, petroleum-free ointment that is not tested on animals. Maty's Baby Ointment is made with natural ingredients, including:
Aceite de oliva

Coconut oil

Helianthus annuus

Sunflower seed wax

Castor oil

Simmondsia chinensis

Jojoba seed oil

Tocopherol (vitamin E)
It is also available in an organic form free of parabens, phthalates, fragrances, and hydrogenated oils.
Does CVS Carry Matys Products?
Yes, CVS sells a variety of Matys products in stores and online.
Are Matys Products Available for Same Day Pick Up?
Select Matys products are available for same day pick up at most locations. Check your local stores for availability and add to cart to pick up today.
Does CVS Deliver Matys Products?
Yes, CVS delivers Matys products to your home. Delivery is always free over $35, or join CarePass to enjoy free shipping on a variety of items.
How To Save On Matys Products?
Join CarePass today to save on Matys products. Enjoy great offers and deals when you sign up. Check the weekly deals and download the CVS App today for exclusive coupons!