Cómo conseguirlo
Recogida no disponible
Cambiar tienda
Mostrando 1-1 de
1 productos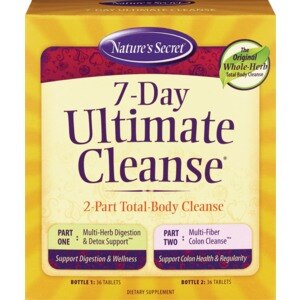 o
en pedidos de $35 o más.
Los precios en línea puede ser diferentes a los precios en tiendas.
Nature's Secret
Irwin Naturals (the producer of the Nature's Secret products) was formed in the mid-1990s. Based on the core principle that high-quality medicines are possible to create and a vital part of healing, the company strives to make plant-based supplements. With a focus on the complete wellness of the whole body, the Nature's Secret line was developed in response to the need for overall health. Products give attention to: respiratory wellness, urinary flush-out, women's health, and several types of system cleanses (including a cleanse for the liver, the digestive system, and for weight loss). The purpose of a cleanse is to remove toxins and chemicals from the body that interfere with its natural ability to function effectively. Of course, you should always consult with a physician when considering adding a new medication to your daily routine. The Food and Drug Administration has not verified statements about supplements such as these. They are not intended to serve as a diagnosis, treatment, cure, or prevention of any disease.
How To Do Nature's Secret Cleanse
The Nature's Secret 7-Day Cleanse consists of two separate pills to be taken every morning and every evening for one whole week. You must drink a full glass of water with each dose to see the most effective results. Instructions for the cleanse per day are as follows:
Day One: Swallow 1 of each tablet from the products in both the morning and the evening (for a total of 2 on day 1).

Day Two: With a full glass of water, increase to 2 tablets of both products in the am and the pm (for 4 total pills).

Days Three through Seven: You should take 3 tablets of both products, morning and evening (6 total per day).
It is not recommended to take more than 6 tablets in a day as it can adversely affect your digestion. If you begin to experience diarrhea, take 2 tablets of both products twice daily instead of 3 as instructed. Otherwise, this blend of herbs and botanicals should work together to bring a gentle cleanse to your system and promote your overall health and wellness.