Mostrando 1-11 de
11 productos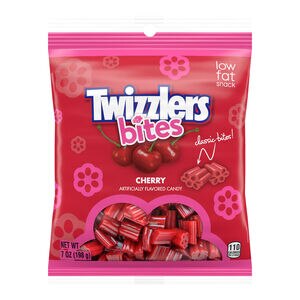 TWIZZLERS Bites Cherry Flavored Chewy Candy, Low Fat, 7oz Bag
Twizzlers
Los precios en línea puede ser diferentes a los precios en tiendas.
What Are Twizzlers?
Twizzlers is a brand of licorice and licorice-like dulces twists. A specially designed machine with rotating nozzles gives the candy its hollow center and iconic twist. In 1845, the founders of the company that would later be called Y&S Candies introduced the first Twizzlers flavor, black licorice. By the mid-1970s, Y&S merged with The Hershey Company and the Twizzlers brand expanded to include several flavors still popular today, including cherry, grape and strawberry.
What Are Twizzlers Made Of?
The complete list of ingredients used to make Twizzlers candy varies by type and flavor. However, the main ingredients in Twizzlers candy twists are corn syrup, sugar, cornstarch and wheat flour. You're also quite likely to find palm oil, glycerin, citric acid, soy lecithin, potassium sorbate, artificial flavors and artificial colors listed on the package.
Do Twizzlers Have Gelatin?
Many popular candies contain varying amounts of gelatin, an animal product often used as a thickening agent. Although Twizzlers have a distinctive, chewy texture, Hershey continues to make the sweet twists without this commonly used ingredient.
Are Twizzlers Vegan Friendly?
Since Twizzlers are made without gelatin, milk or other animal-sourced ingredients, Twizzlers candies are vegan-friendly. Yet many vegans are hesitant to eat them because of the palm oil used to make the popular treat. Some vegans believe the processes involved in making palm oil are too detrimental to the environment to mesh with a vegan lifestyle.
Are Twizzlers Gluten Free?
No, Twizzlers candies are not gluten-free, but they are Kosher certified. One of the main ingredients in Twizzlers candy twists is wheat flour. Wheat flour contains gluten. However, the Hershey's Candy Company does offer many gluten-free candy options, sweets made without wheat, graham or malt.
How Many Twizzler Flavors Are There?
Twizzlers original twists are available in licorice, strawberry and a rainbow pack. Rainbow Twizzlers give you 6 delicious flavors, blue raspberry, grape, lemonade, orange, watermelon and strawberry. Hershey also makes filled Twizzlers, Sweet and Sour Twizzlers, cherry flavored Twizzlers Nibs and more. Although the Twizzlers product line includes several flavors of twists, nibs and gummies, more strawberry flavored twists are sold than any other variety.
Does CVS Carry Twizzlers Products?
Yes, CVS sells a variety of Twizzlers products in stores and online.
Are Twizzlers Products Available for Same Day Pick Up?
Select Twizzlers products are available for same day pick up at most locations. Check your local stores for availability and add to cart to pick up today.
Does CVS Deliver Twizzlers Products?
Yes, CVS delivers Twizzlers products to your home. Delivery is always free over $35, or join CarePass to enjoy free shipping on a variety of items.
How To Save On Twizzlers Products?
Join CarePass today to save on Twizzlers products. Enjoy great offers and deals when you sign up. Check the weekly deals and download the CVS App today for exclusive coupons!