Cómo conseguirlo
Recogida no disponible
Cambiar tienda
Mostrando 1-4 de
4 productos
CVS Health - Limpiador de lentes, 4 oz
CVS Health
Compre 1, lleve 1 al 50% - ¡Agregue 2 o más para recibir la oferta!
o
en pedidos de $35 o más.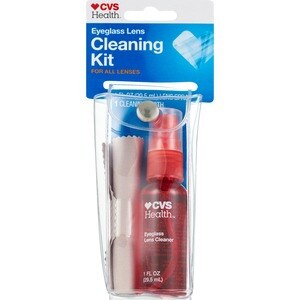 CVS Health - Kit de limpieza de gafas
CVS Health
Compre 1, lleve 1 al 50% - ¡Agregue 2 o más para recibir la oferta!
o
en pedidos de $35 o más.
o
en pedidos de $35 o más.
Los precios en línea puede ser diferentes a los precios en tiendas.
What Is The Best Eyeglass Cleaner Spray?
Choosing an eyeglass cleaner spray is important for both your ability to see clearly as well as for maximizing the life of your eyeglasses. Accumulated dust and oil impedes both such things, and can build up in the frames, so it is essential that you find an effective cleanser. At CVS, you can find eyeglass cleaner sprays that can tuck into any pocket so that you always have cleaner on hand, and some options contain no harsh chemicals or alcohol for a more gentle wash. Explore your most trusted brands in-store and online with CVS to determine which ingredient list best suits your needs, as well as if there are any perfumes you prefer and which scents are to be avoided.
What Are Eyeglass Cleaner Wipes?
Pre-moistened eyeglass cleaner wipes are a portable and convenient way to keep your spectacles spotless. Many wipes are also effective tools in cleaning fragile technology lenses like those in telescopes and on your favorite electronic surfaces. A quick swipe of an individually wrapped eyeglass cleaner wipe can provide clear vision and often also offer anti-fogging in their formula.
What Is The Importance of Eyeglass Cleaner?
You wouldn't drive your car with a clouded or foggy windshield, so why try and see the world through less-than-pristine eyeglasses? While simple soap and water can clear your glasses of dirt and debris, eyeglass cleaner is specially formulated to remove oil buildup on the surface of your lenses. Some soaps can also contain a lotion additive to moisturize your skin, which can result in a cloudier outcome than when you started the task of cleaning your spectacles. Eyeglass cleaner does not contain any abrasive ingredients that can potentially scratch the surface of your lenses, as can be the case with some cleansing scrubs.