Cómo conseguirlo
Recogida no disponible
Cambiar tienda
Los miembros de CarePass
TM
Mostrando 1-6 de
6 productos
IGIA Portable Makeup Brush Cleaner with 12 Piece Makeup Brush
TeleShop
Envío gratis con pedidos de $35 o más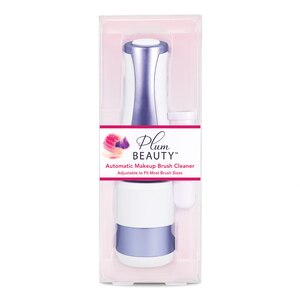 o
en pedidos de $35 o más.
o
en pedidos de $35 o más.
o
en pedidos de $35 o más.
Los precios en línea puede ser diferentes a los precios en tiendas.
Makeup Brush Cleaner
The best brush cleaner for makeup should be gentle yet effective. It should remove makeup quickly without leaving any sticky or irritating residue behind. Make sure the brush cleaner you choose doesn't contain any ingredients that could clog your pores or irritate your skin. Some makeup brush cleaner products contain all-natural ingredients, while others may use chemicals to get the job done. The best brush cleaner for makeup will also be quick drying. This ensures that once you clean your brushes, they're dry and ready to use again in just a few minutes.
How To Clean Makeup Brushes
Keeping your makeup brushes clean is important since it prevents the spread of bacteria, which could cause skin irritation or infections. To clean your makeup brushes, start by wetting your brush with some clean, lukewarm water and hold it upside down as your rinse. Add a small dime-sized amount of brush cleaner to the palm of your hand, then swirl the brush bristles around in your palm to create a lather. Once the brush is saturated with the cleanser, place the bristles under warm water to rinse the cleaning solution out. Squeeze any excess water from your brush using your hand, then lay the brush flat on a clean towel and let it air dry. If you notice that the brush still looks a little bit dirty, simply repeat the process once or twice again until the water runs clear.
What Is In Makeup Brush Cleaner?
Most makeup brush cleaner products are formulated with a mild soap or detergent. Others may also include silicone, which adds a protective coating to the bristles. You may also find makeup brush cleaner containing natural ingredients like coconut oil, which has antibacterial properties and may help to keep bristles soft. Read the product's ingredients list to confirm that it contains a formula that won't irritate your skin once the brush is clean. Some makeup brush cleaner products come as a spray, while others may be a balm or in a liquid soap-like formula. A few brands use an ingredient called cetrimonium chloride, which is also found in shampoo. It mimics the way that shampoo cleanses your hair, but is gentler so that it doesn't damage the bristles of your makeup brushes.