Cómo conseguirlo
Recogida no disponible
Cambiar tienda
Los miembros de CarePass
TM
Mostrando 1-7 de
7 productos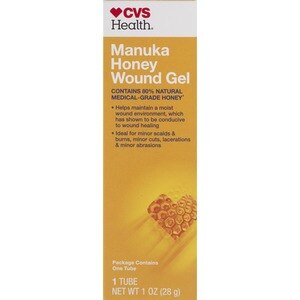 CVS Health Manuka Honey Wound Gel, 1 oz
CVS Health
Precio con CarePass
™
$7.99
Envío gratis con pedidos de $35 o más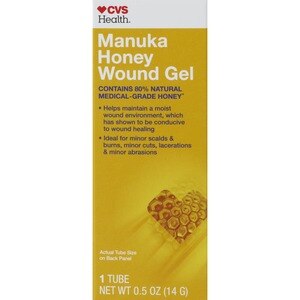 CVS Health Manuka Honey Wound Gel, 0.5 OZ
CVS Health
Precio con CarePass
™
$6.39
o
en pedidos de $35 o más.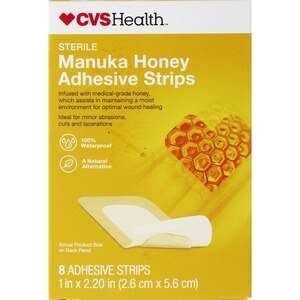 CVS Health Sterile Manuka Honey Adhesive Strips 1" x 2.20", 8CT
CVS Health
Precio con CarePass
™
$7.99
o
en pedidos de $35 o más.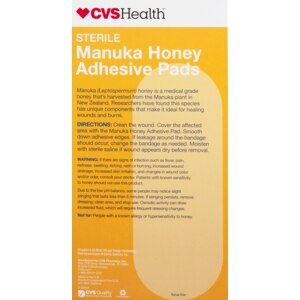 CVS Health Sterile Manuka Honey Adhesive Pads
CVS Health
Precio con CarePass
™
$7.99
to
$11.19
Envío gratis con pedidos de $35 o más
Wedderspoon Organic Manuka Honey Drops - Lemon
Wedderspoon
o
en pedidos de $35 o más.
SheaMoisture Manuka Honey - Tratamiento sin enjuague multiacción
SheaMoisture
o
en pedidos de $35 o más.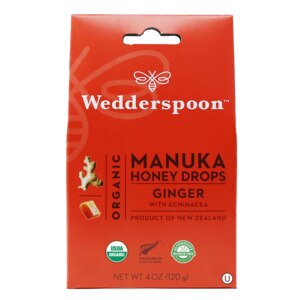 Caramelos de miel de manuka orgánica, con jengibre
Wedderspoon
o
en pedidos de $35 o más.
Los precios en línea puede ser diferentes a los precios en tiendas.
Miel de manuka
Prefer to take a natural approach to beauty or addressing illnesses and chronic conditions? CVS can help you find products that are in line with your natural wellness philosophy. In this selection, you can discover a diverse assortment of products that contain Manuka honey. Explore how to use Manuka honey and browse through the entire assortment of products or filter the selection by category, form, concern and to quickly find the best Manuka honey product for your needs.
What Is Manuka Honey?
Manuka honey is a specific type of honey. True Manuka honey is produced by bees that feed on the Leptospermum scoparium or Manuka bush, which grows only in New Zealand. For centuries, people in New Zealand have used Manuka honey health benefits as a natural remedy for a variety of concerns. Scientists have discovered that the honey is rich in a compound called 1,2-dicarbonyl compound methylglyoxal. This may give Manuka honey antibacterial benefits. Research into the use of Manuka honey as a natural remedy is ongoing. There is not enough evidence at this time to prove that it is beneficial for treating any specific medical concern.
Benefits Of Manuka Honey
Manuka Honey Topical Application
Due to the potential antibacterial benefits of the substance, uses of Manuka honey can often be applied to burns, cuts, lacerations and other minor wounds to support healing. For wound care, you can purchase manuka honey gel, cream or ointment to your skin. There are also adhesive pads enriched with Manuka honey that can be used as dressings for wounds.
Manuka Honey Oral Products
Manuka honey uses are not just used topically. How to take Makuna honey? Some people take Manuka honey by mouth to address health concerns. Honey has long been used as a natural remedy to ease coughing. Natural cough drops and cough syrups may contain Manuka honey to provide cough relief and possible antibacterial benefits. Pure food-grade Manuka honey is also available for oral use. Before using Manuka honey topically or orally to address a medical concern, it is wise to consult a medical provider.
Products With Manuka Honey
Muchas beauty products today are formulated with Manuka honey for the skin. Some anti-acne skin care products use Manuka honey to fight the bacteria that contributes to the formation of blemishes. Soaps, body washes and facial cleansers may be enriched with Manuka honey for its potential purifying benefits. Since Manuka honey is believed to support skin healing, the manufacturers of anti-aging beauty products may add the ingredient to support cellular rejuvenation. To learn more about beauty products that contain Manuka honey benefits for the skin, you can read the descriptions that appear on their product pages.
Búsquedas relacionadas
manuka honey bandages, manuka honey wound gel, medical grade manuka honey