Los miembros de CarePass
®
Mostrando 1-3 de
3 productos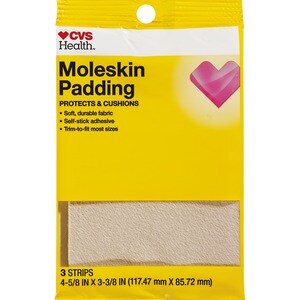 Los precios en línea puede ser diferentes a los precios en tiendas.
What are the Best Moleskin Brands?
What is moleskin?
Moleskin is a relatively thin, durable cotton fabric. The texture and appearance are similar to chamois or felt. Some say moleskin fabrics have a suede-like appearance. Historians have traced the origins of moleskin back to medieval Europe. The fabric was worn by hunters and farmers in need of durable, comfortable, wind-resistant clothing. Although many people appreciate the rugged durability of moleskin fabric, others appreciate its protective properties. El moleskin padding you'll find at CVS Pharmacy® features a strong, super-adhesive backing.
What is moleskin used for?
People use adhesive-backed moleskin padding to help prevent blisters. The protective padding is also helpful for the discomfort of shoes that might not fit as well as they could. The self-stick, water-proof adhesive holds the padding in place wherever tender areas need protecting. But there are also several other potential uses for adhesive moleskin padding. Since they're typically sold in wide strips, you can cut moleskin pads into nearly any shape. You can stick a moleskin pad wherever your shoe might rub. You also have the option of sticking the pad directly on your skin. But moleskin isn't just for blister prevention or relief. Moleskin is also helpful for corns, calluses, and bunions.
How do I use moleskin for a blister?
To use moleskin to protect a blister or broken skin, first, clean the blister and surrounding tissues with soap and water. Then apply an antiseptic. While you wait for your skin to dry, use a scissors to cut a shape about ¾ -inch larger than your injury. After cutting your protective bandage, fold the fabric in half. Then cut a hole into the center large enough to create an opening for your blister. Avoid sticking the adhesive on the blister itself. If your blister sticks up above the moleskin patch, cut a second pad with the same dimensions as the first. Use the second pad to increase the height. Keeping your blister surrounded with a thick, protective pad helps reduce friction and irritation. Although moleskin provides effective blister treatment and prevention, the adhesive-backed protective padding may not be suitable for everyone. If you have poor circulation or diabetes, please consult your health care provider before using moleskin.