Mostrando 1-5 de
5 productos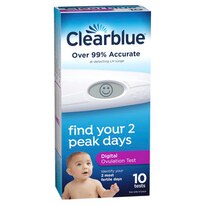 Los precios en línea puede ser diferentes a los precios en tiendas.
Ovulation Kit
Getting pregnant isn't always as simple as it seems. Sometimes it's hard to time things just right. One way to ease the difficulty of getting pregnant is to use ovulation kits. These kits monitor your hormones and tell you when you are ovulating to maximize your chances of getting pregnant.
Ovulation kits track the luteinizing hormone (LH) in your urine. LH is always present, but it increases exponentially 24-48 hours prior to ovulation. This LH surge triggers ovulation, which is the most fertile time of your cycle when an egg is released from one of your ovaries. Ovulation occurs approximately 36 hours after the LH surge, but even when you detect the surge, you don't know exactly when it began. So, your best bet is to have intercourse on the day of the surge and for the next three days in the hopes that your partner's sperm connects with your egg.
How To Use An Ovulation Kit
Ovulation tests are very similar to pregnancy tests, as they use urine to test for the hormone necessary (LH for ovulation, HCG for pregnancy). When you start tracking ovulation, you should do a test to get a baseline and find out your regular levels of LH, so you know when your levels begin to increase. You should test at the same time every day. Most women test using their first urine of the day. Just remember that if you drank a lot of fluid during the night, this can dilute the LH and cause you to miss the surge.
Ovulation tests will often include a syringe or dropper that will have you suction up some urine and then place two or three drops into a specific area on the test. Other kits will have you dip a stick directly into the urine for a few seconds and then remove. Whatever kit you choose, be sure to follow the instructions carefully to get an accurate reading.
Ovulation kits are a great way to take charge of your fertility and take some of the guesswork out of getting pregnant. It is important to remember that women with some conditions, such as Polycystic Ovarian Syndrome (PCOS) have chronically high amounts of LH, so the kits won't work for them. In addition, fertility drugs might produce inaccurate results with an ovulation kit.
If you have been trying unsuccessfully to get pregnant for six or more months, you should contact your health care provider for an appointment.