Mostrando 1-1 de
1 productos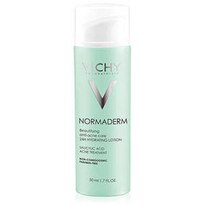 Los precios en línea puede ser diferentes a los precios en tiendas.
Ácido salicílico
If you deal with acne and breakouts from time to time, salicylic acid is probably something you use. This powerful ingredient can be found a wide range of products from facial cleansers and acne treatments to creams and more. You might not realize it, but products that contain salicylic acid can help your oily skin and help keep your breakouts to a minimum. With proper use, anything containing salicylic acid may help your skin stay clean and clear.
Salicylic Acid Benefits
When you apply something that contains salicylic acid to your skin, it works hard to help dissolve debris that can clog your pores. It can also work as an anti-inflammatory which is why it's so popular for use on inflamed blackheads and whiteheads. The ingredient penetrates deeply into your skin to help dissolve excess gunk and oil. It's can also be a wonderful exfoliant that can help slough off dead skin cells on the top layer of your face. This combination of oil-fighting power and exfoliation may help you achieve a clearer complexion.
Salicylic Acid Acne Support
To keep your acne under control, try a skin wash that contains salicylic acid. If you have occasional acne, a simple acne spot treatment should suffice. You can use both products together if ongoing or severe acne is a concern. Use the facial wash as directed and apply the treatment once in the morning and once at night on clean skin. Apply acne treatments directly to the affected areas only. Read the label of any product containing salicylic acid to see how concentrated it is. The rate can vary from 0.5 percent to as high as 2 percent.
What are the Best Salicylic Acid Brands?
What Is Salicylic Acid?
This ingredient involves one of two types of acids known as beta hydroxy acids and alpha hydroxy acids. Salicylic acid is a beta hydroxy acid, which means it is oil soluble. One of the ways to obtain salicylic acid naturally is from willow bark. When you apply something containing this ingredient to your skin, it penetrates the lipid layers and works hard to deep-clean oily skin and clogged pores. It penetrates your pores, allowing for a deep cleaning that can result in smooth, clear skin and fewer breakouts over time with regular use. It can work especially well on blackhead and whiteheads, which is why it's commonly used in acne targeting products.