Mostrando 1-3 de
3 productos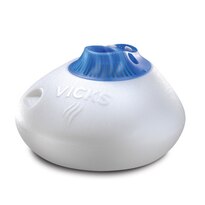 Los precios en línea puede ser diferentes a los precios en tiendas.
Steam Vaporizers
Whether you're suffering from congestion, have dry nasal passages, or just need more moisture in the air, a steam vaporizer can help. These handy devices turn water into steam and then mist it into the air to help you breathe easier. If you live in a dry region, they can be especially helpful. They're also extremely beneficial to people with breathing problems. Read on to learn more about these devices and how to use them.
When To Use A Vaporizer
It's best to discuss the possible need for a steam vaporizer with your doctor. They can talk to you about your current symptoms and go over any environmental problems you might be dealing with at home. For those with acute respiratory problems like a cold, bronquitis, or the flu, steam vaporizers can give you mild relief. If you have a more severe or chronic respiratory issue, a vaporizer might help but you could also need something more specialized. You can add moisture to the air with a vaporizer to give you more comfort while breathing. Make sure you understand the risks involved with using them since they can produce bacterial growth in some environments.
Steam Vaporizer Safety Tips
Since steam vaporizers heat water to create steam, it's not recommended for children. The hot water can scald or burn little ones if you leave the unit unattended. Always unplug your vaporizer whenever it's not in use. You should also regularly clean the reservoir. Warm, stagnant water can create increased bacterial buildup that could be breathed in, causing other illnesses. With regular cleanings, you can prevent this problem.
How To Use A Vaporizer
In order to get the most benefit from a steam vaporizer, there are a few things you should consider. Here are some helpful tips that will ensure your vaporizer works properly and safely:
Carefully follow the manufacturer's instructions. All units have their own unique features, so your usage may vary depending on the manufacturer's recommendations.

Always keep your steam vaporizer safely out of the reach of children.

Choose the room you want to use the vaporizer, and only have it running when the room is occupied. Otherwise, turn off and unplug the unit when it's not in use.

Use distilled water instead of tap water. Tap water contains minerals that can clog your vaporizer and cause it to become damaged.

Place the vaporizer on a stable, flat surface away from drapes and upholstered furniture to prevent water damage.