Mostrando 1-1 de
1 productos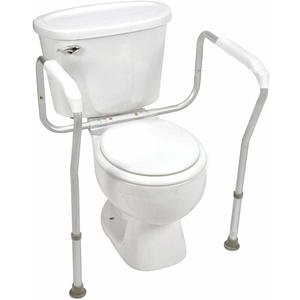 HealthSmart Germ-Free Adjustable Toilet Safety Arms Rails, White
HealthSmart
Los precios en línea puede ser diferentes a los precios en tiendas.
Toilet Safety Rails
Using the toilet seems like a simple, everyday task, but for individuals with limited mobility, toileting can be difficult and even dangerous. Transferring from standing to sitting and back again can pose a risk for falls that may result in serious injury. Fortunately, you can lower the likelihood of you or your loved one suffering a fall with toilet safety rails. CVS has a diverse assortment of toilet safety rails available, making it easy to find the best type for your bathroom.
Bathroom Security Poles
Security poles can help to reduce the risk of falls around the toilet. A security pole is a long metal bar that usually extends all the way from the floor to the ceiling. The bar may have grips attached on one or both sides. Individuals can grab hold of one of these grips or the bar to brace themselves when they are rising from the toilet.
Bathroom Wall Mount Bars
Another way to improve the level of safety in your bathroom is to install grab bars around your toilet. Wall-mount grab bars are usually anchored to the wall with bolts or screws and may be installed vertically or horizontally. These toilet safety solutions do not limit access to the toilet; however, they typically cannot be used in bathrooms that lack a parallel wall close to the toilet.
Toilet Mount Rails
Toilet-mount safety rails offer an easy way to help people safely transfer. These safety solutions fit around the toilet and feature two armrests. When it's time to sit and stand, users can hold onto these armrests for support.
Standalone Safety Rails
Freestanding safety rails work similarly to toilet-mount safety rails; however, they do not attach to the toilet itself. Instead, these bathroom safety products are placed directly in front of the toilet. Because they can be easily moved out of the way, this type of toilet safety rail is often a good choice for bathrooms that are used by a whole family, not just a person with limited mobility.
How To Use Toilet Safety Rails
When shopping for toilet safety rails, it's important that you pay attention to the weight capacities of the various products. Safety rails are only able to support a certain amount of weight. If a person who weighs more than the maximum weight capacity attempts to use the rail, it may give out and cause a fall. Bariatric toilet grab bars are available for people who require extra support. You'll also need to ensure that you install the toilet safety rail properly. If you're uncertain about how to properly secure the bathroom safety product that you purchase, you may want to enlist the help of a professional.
Búsquedas relacionadas
bathroom grab bars, toilet seat riser, transfer benches, toilet seats, bath lifts