Over The Counter UTI Medicine
Los miembros de CarePass
TM
Mostrando 1-9 de
9 productos
Infección del tracto urinario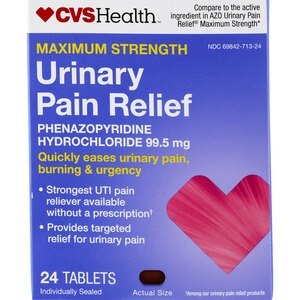 CVS Health - Alivio para el dolor al orinar en tabletas, potencia máxima
CVS Health
Precio con CarePass
™
$7.59
o
en pedidos de $35 o más.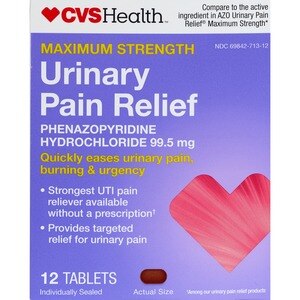 CVS Health - Alivio para el dolor al orinar en tabletas, potencia máxima, 12 u.
CVS Health
Precio con CarePass
™
$4.79
o
en pedidos de $35 o más.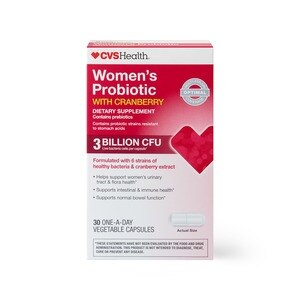 CVS Health - Cápsulas de probióticos y arándano, para mujeres, 30 u.
CVS Health
Precio con CarePass
™
$21.59
o
en pedidos de $35 o más.
Los precios en línea puede ser diferentes a los precios en tiendas.
What are the Best Over The Counter UTI Medicine Brands?
What Is A UTI?
A urinary tract infection (UTI) can cause severe pelvic distress and painful urination. Most UTIs involve the lower region of the urinary tract, the urethra or bladder. However, UTIs can also impact the organs of the upper urinary tract, including the kidneys and potentially cause further kidney infections in left untreated. Urinary tract infections are common, but 8 times more likely to affect women because of the differences between male and female anatomy.
How Do You Get A UTI?
A UTI is caused by bacteria that can enter the genital area and travel to the urinary tract through the urethra and into the bladder. UTIs are more common in women. There are several causes for UTI, including if you have kidney stones or obstructions in the urinary tract. UTIs do not spread from one person to another, but sexual activity may lead to or worsen a UTI. One cause of UTI includes exposure to bacteria from your partner during sexual activity. It can also be caused by gonorrhea or chlamydia, which are sexually transmitted diseases. You do not have to be sexually active to develop UTI. People who use catheters or certain types of birth control like diaphragms may also spread bacteria into the urinary tract, putting them at higher risk. Look for supplements that contain cranberry extract to help prevent a UTI or try over-the-counter treatments that contain methenamine, an anti-bacterial ingredient used to provide UTI relief.
How To Treat A UTI
If left untreated, urinary tract infections can worsen and spread to the bladder and kidneys, posing serious health risks. UTI pain relief products do not treat infections. Typically, prescription antibiotic medications are required to deal with the bacteria that causes UTIs. As a result, you should never simply take UTI relief products and hope that the infection will pass. Seeing a health care professional as soon as possible can greatly reduce your risk of complications. A medical professional can also help you ensure that you choose the right UTI relief product for alleviating discomfort while prescription medications clear up the infection. Only use UTI relief products as recommended by the manufacturer or your medical provider.
How Long Does A UTI Last?
How long your UTI lasts depends on several factors, including the location of your infection, whether it lays in your urinary tract, urethra, bladder or kidneys. An uncomplicated UTI involving the lower urinary tract usually responds to treatment quickly. If your provider prescribes an antibiotic, your symptoms could start improving within 48 hours. When you have a severe UTI, it can take much longer (7-14 days) for your symptoms to resolve.
Does CVS Sell UTI Medicine?
Yes, CVS sells a variety of UTI Medicine in stores and online.
Is UTI Medicine Available For Same Day Pickup?
Yes UTI Medicine is available for discreet same day pickup at most locations, check your local stores availability and add to cart to pick up today.
Is There An Age Limit To Purchase UTI Medicine?
No there is no age limit to purchase UTI Medicine from CVS.
Does CVS Deliver UTI Medicine?
Yes CVS delivers UTI Medicine to your home. Delivery is always free over $35, join carepass to enjoy free shipping on a variety of items.
Is UTI Medicine Over The Counter?
Yes, UTI Medicine is an over the counter product and can be purchased at CVS in stores and online.
Urinary Tract Infection Treatments
Urinary tract infections or UTIs can cause severe discomfort, making it difficult for you to work, enjoy your leisure time and sleep at night. Fortunately, you can ease pain and urinary urgency while you recover from an infection with over the counter UTI relief products. CVS carries a diverse assortment of UTI relief products that you purchase online and have conveniently shipped to your home.
UTI Symptoms
Most urinary tract infections are often caused by a common type of bacteria found in the gastrointestinal tract, E. coli. But not all of them. There are many other bacteria, viruses, and fungi that can lead to infection.
One of the most common signs of a urinary tract infection is a strong, frequent urge to urinate, even when you just went. You may also notice any number of the following symptoms:
Pain or a burning sensation during urination

Cramping in your lower back, belly, or sides

Foul-smelling or cloudy urine

Blood or pus in your urine

Rectal pain (men) or pelvic pain (women)
UTI Relief
UTI relief medications are intended to address the symptoms of UTIs, helping you feel more comfortable while clinical interventions are used to treat the underlying infection. The active medication in these drugs is usually phenazopyridine hydrochloride. This medication may soothe irritation in the urinary tract to alleviate pain and the constant feeling of having to urinate. As phenazopyridine hydrochloride is a dye, it usually causes urine to turn a harmless bright yellow or dark orange color.
Urinary Tract Infection Herbal Treatment
Some people use natural products to promote urinary tract health. Cranberry extract is an especially popular natural intervention. Research indicates that cranberry extract may make it difficult for bacteria to build up in the urinary system. As a result, cranberry supplements like cranberry gummies may lower your risk of developing UTIs; however, there is not enough evidence to prove that any cranberry supplement will be effective for everyone who takes it.
UTI Treatment Over The Counter
CVS Pharmacy® has the UTI medicine & products you need to feel better fast, and a selection of dietary herbal supplements formulated to support healthy bladder function. Although UTI relief medications won't have an impact on the cause of your infection, the active ingredients could help the burning, urgency, and urinary pain.
If a review of your symptoms and physical exam suggest you may have a urinary tract infection, your health care provider will likely request a "clean-catch" urine sample to confirm their diagnosis. If your provider suspects an upper tract UTI, they may also recommend a complete blood count or urine culture. Once confirmed, your doctor may want to treat your UTI with an antibiotic. Your practitioner may also recommend using an over-the-counter UTI pain reliever to help ease your uncomfortable symptoms.
Búsquedas relacionadas
Productos para la concepción y fertilidad, Alivio de dolores menstruales, Protectores diarios, Tratamiento para vaginitis, Douches & Feminine Wipes, Copa menstrual