Los miembros de CarePass
TM
Mostrando 1-8 de
8 productos
CVS Health - Protectores para la cama, protección día y noche, Maximum Absorbency
CVS Health
Precio con CarePass
™
$8.63
to
$15.59
o
en pedidos de $35 o más.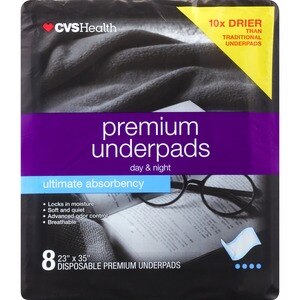 CVS Health - Protectores premium para la cama, 8 u.
CVS Health
Precio con CarePass
™
$10.39
o
en pedidos de $35 o más.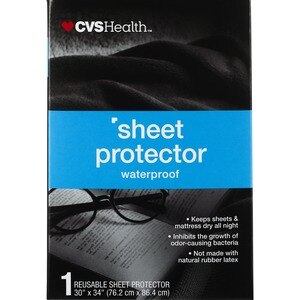 CVS Health - Protector impermeable para sábanas
CVS Health
Precio con CarePass
™
$10.39
o
en pedidos de $35 o más.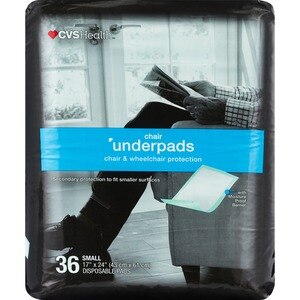 CVS Health Chair and Wheelchair Underpads, Small, 36 CT
CVS Health
Precio con CarePass
™
$14.79
o
en pedidos de $35 o más.
Carebag Bedpan Liner Super Absorbent Pad, 12CT
CVS Health
Precio con CarePass
™
$14.39
o
en pedidos de $35 o más.
Los precios en línea puede ser diferentes a los precios en tiendas.
What are the Best Bed Pads & Underpads Brands?
How To Put On Bed Pads
Bed pads are a great way to protect your mattress from bed wetting accidents. These are great for children who have an occasional accident, as well as adults who struggle with incontinence. Bed pads are put onto your mattress much like a normal fitted sheet. They can be placed directly over your mattress to give an added layer of protection. Some people will put them on over the sheet as well so that they do not need to wash the sheets as often.
How Do Bed Pads Work?
Bed pads work by creating an added layer of protection for the mattress. These pads are made with an absorbent material on top that will quickly lock the moisture in place so that you are not uncomfortable. In addition, on the underside there is a waterproof material that will prevent any moisture from leaking through to the mattress. When wet, the pad can simply be removed from the bed like a sheet. Some bed pads are disposable, in which case they are just thrown away. Reusable bed pads are machine washable so that you can reuse them as long as needed. Both options will provide an excellent level of comfort and protection.
If you or someone you love is dealing with incontinence, it is important to protect your bedding. Bedding can easily become ruined when exposed to urine. CVS offers a variety of incontinence supplies designed to help you protect your mattress, sheets, and other furniture from damage.
Underpads For Beds
Bed pads and underpads are designed to be placed on top of your mattress and sheets to help keep them dry during the night. You can also use underpads to help protect furniture like couches and armchairs. Simply place the incontinence pad on top of the surface you want to protect, making sure that the absorbent side is facing upwards. It is important to know that some bed pads are designed with greater absorbency than others. It is always wise to use more than one method of protection. For example, you may want to wear incontinence underwear to bed at night and also lay down a bed pad underneath you to help minimize the damage from potential leaks that might get through.
Disposable Bed Pads
Many bed pads are disposable. Disposable bed pads are very convenient because they don't create any additional laundry and you don't need to worry about cleanup. Instead, you can simply wrap the used bed pad up and dispose of it in the trash. Disposable underpads are typically sold in packs, so you can purchase a supply at an affordable price. Washable bed pads and sheet protectors are also available. Washable bed pads should be placed above the sheets to help keep your bedding and mattress dry. When the sheet protector becomes wet, you can simply throw it in the washing machine and reuse it once it is clean. Because you don't need to keep purchasing additional products as you do with disposable bed pads, many people find this to be a more affordable option. Still others may prefer washable underpads for environmental reasons. You should choose whichever style works best for you and your lifestyle. Some people even alternate between using both, depending on their needs at the time!
Waterproof Mattress Pads
In addition to incontinence bed pads, CVS also carries a selection of waterproof mattress pads and mattress protectors. Waterproof mattress pads offer additional protection from incontinence. Mattress protectors are typically washable, so you can use them again and again. It is a good idea to keep a waterproof mattress pad on your bed at all times to help protect your mattress from becoming damaged. Some mattress protectors are also reversible, so that if you have leakage during the night, you don't have to get up and change your bedding right away. These are designed to allow you to easily turn the mattress protector over and go back to sleep comfortably, leaving you free to get the rest you need and deal with laundry in the morning instead. However, not all mattress protectors have this feature, so be sure to read the product packaging carefully before making your purchase.
Protective Mattress Pads
If you struggle with incontinence, it is possible to protect your expensive mattress and beloved bedding from becoming damaged! With incontinence supplies from CVS, you can rest comfortably and worry-free! However, it is always important to talk to your doctor if you are dealing with incontinence. He or she can help you pinpoint the cause of your symptoms and go over possible medical treatments that could help you experience fewer leaks in the future.
Búsquedas relacionadas
bed wetting pads, adult diapers, incontinence pads, incontinence medication, overnight protective underwear incontinence wipes