Los miembros de CarePass
TM
Mostrando 1-20 de
106 productos
Colgate Kids' - Pasta dental con flúor, protección anticaries, sabor Bubble Fruit
Colgate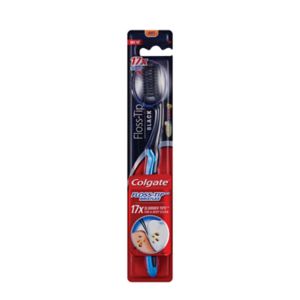 Colgate Floss-Tip Bristles Toothbrush
Colgate
Los precios en línea puede ser diferentes a los precios en tiendas.
Pasta dental Colgate
Colgate toothpaste comes in several forms to treat and prevent oral issues such as tooth decay, cavities, and gingivitis. Toothpaste from Colgate includes formulas for kids, whitening kinds of toothpaste, and toothpaste formulas that will freshen breath. You can find a variety of Colgate Toothpaste at your local CVS Pharmacy and on our website.
Colgate Optic White
Colgate Optic White toothbrushes, mouthwashes, and tubes of toothpaste are designed to give you a bright, white smile. The Optic White overnight tooth whitening pen makes it easy to keep your teeth bright and white while you sleep. Optic White toothbrushes are specially designed to clean your teeth effectively while removing stubborn plaque and stains. The toothpaste features micro-polishing action to safely remove surface stains and leave your teeth whiter and brighter while preventing new stains from forming.
Colgate Toothbrush
Colgate makes toothbrushes for every age group and every type of dental care need. These toothbrushes are made with high-quality materials and come in several options including soft, medium, and hard bristles. Some Colgate toothbrushes include battery-powered action to make it easy to scrub your teeth and gums in the most effective way. Polishing bristles help with stain removal, while a comfortable ergonomic handle makes brushing your teeth easier and your toothbrush easier to hold.
Enjuague bucal Colgate
Colgate Mouthwash kills germs that can cause bad breath and bacteria. Use this mouthwash as directed to get fresher breath and to preserve your healthy teeth and gums. Look for Colgate Mouthwash in several varieties including alcohol-free formulas to help with sensitive teeth and gums. This mouthwash is clinically proven to reduce plaque buildup, promote healthier teeth, and keep your breath fresh and clean. Colgate also makes a mouthwash for gum health and formulas that include peroxyl to help prevent and heal mouth sores.
Búsquedas relacionadas
Omron, Pampers, Primatene, Dove, Olay, Cerave
Does CVS Carry Colgate Products?
Yes, CVS sells a variety of Colgate products in stores and online.
Are Colgate Products Available for Same Day Pick Up?
Select Colgate products are available for same day pick up at most locations. Check your local stores for availability and add to cart to pick up today.
Does CVS Deliver Colgate Products?
Yes, CVS delivers Colgate products to your home. Delivery is always free over $35, or join CarePass to enjoy free shipping on a variety of items.
How To Save On Colgate Products?
Join CarePass today to save on Colgate products. Enjoy great offers and deals when you sign up. Check the weekly deals and download the CVS App today for exclusive coupons!