Cómo conseguirlo
Recogida no disponible
Cambiar tienda
Los miembros de CarePass
TM
Mostrando 1-20 de
58 productos
CeraVe Eye Cream for Wrinkles and Dark Circles with Caffeine, Peptides, Hyaluronic Acid, Niacinamide, and Ceramides, 0.5 OZ
CeraVe
Compre 1, lleve 1 al 40% - ¡Agregue 2 o más para recibir la oferta!
Envío gratis con pedidos de $35 o más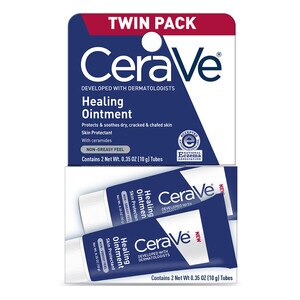 Los precios en línea puede ser diferentes a los precios en tiendas.
Cerave - Crema hidratante
Cerave Moisturizing Cream contains three essential ceramides that hydrate the skin while restoring its natural protective barrier. This cream contains ingredients to help those with very dry skin improve the look and feel of their skin. This product is developed by dermatologists and is best suited for those dry or very dry skin on the face and body. The non-greasy cream is fast-absorbing to provide effective hydration throughout the day and night.
Many people have been adding CeraVe healing ointment as a layer on top of their CeraVe moisturizers and skin care routine in general as a part of a trend called slugging. Slugging is a K-Beauty trend where you coat your face in a layer of CeraVe healing ointment or vaselina like Vaseline as the last step of your nighttime skincare routine. After you have washed your face with a cleanser or face wash and applied all your serums and moisturizers, it is slathered on to your face to essentially lock in all your skincare products to get the full effect of them and add additional hydration.
Cerave PM
Cerave PM is a moisturizing lotion that contains niacinamide, an ingredient that helps to calm the skin while you sleep. The special formula also contains hyaluronic acid and ceramides to help your skin hold onto moisture. The non-comedogenic formula won't clog your pores or cause acne, and the lightweight, rich formula uses the brand's patented MVE Delivery Technology to deliver constant moisture all night.
What Is The Best CeraVe Cleanser?
CeraVe cleanser is available in several formulas to suit your skin type. Whether you have dry, oily, combination, or sensitive skin, these cleansers will help improve your skin without leaving it feeling stripped. For example, if your skin is dry, use a hydrating face wash to keep your skin moisturized. If your skin is oily or acne-prone, try a cleanser that's formulated for oily skin. Cerave SA Smoothing Cleanser is a good choice for bumpy, dry skin thanks to the hydrating ingredients that remove dirt, oil, and makeup to reveal healthier, clearer skin.
Cerave offers foaming, gel, and cream cleansers as well as cleansing wipes. Each of these facial cleansers includes three essential ceramides for effective skin cleansing without disrupting your skin's natural barrier.
Which Cerave Cleanser is Best For Acne?
If you have acne-prone skin, Cerave Acne Foaming Cleanser is the best choice. This product contains 4% benzoyl peroxide to eliminate whiteheads and dissolve dirt and excess oil, leaving fresh, clean skin behind.