Cómo conseguirlo
Recogida no disponible
Cambiar tienda
Los miembros de CarePass
TM
Mostrando 1-3 de
3 productos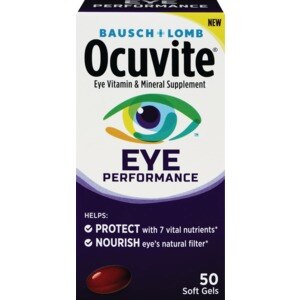 Ocuvite Eye Performance - Suplemento de vitaminas y minerales, 50 u.
Ocuvite
Los precios en línea puede ser diferentes a los precios en tiendas.
What is Ocuvite?
Ocuvite is a line of products that are intended to help improve your eye health and performance. These products were developed and are sold by Bausch + Lomb®, a company that is well-known in the eye-care industry as they produce a variety of different types of contacts, glasses, and other things related to your vision. There are multiple different formulas of Ocuvite, including options for people who are 50 years and older, those looking to improve eye performance, and more. You can pick up your supply of any Ocuvite product at your local CVS Pharmacy or order it online from CVS.com
What is Ocuvite Used for?
Ocuvite is a supplement that is used to improve the health and function of your eyes. The formula contains key nutrients including omega-3 fatty acids, lutein, and more, all of which are believed to help improve your eye health and vision. This is done by both nourishing your eyes and offering nutrients that have been shown to protect them. You can take Ocuvite products to help reduce the risk of eye problems in the future, or to combat existing issues so that you can maintain or even improve your vision over time.
What Does Ocuvite Do?
Ocuvite works like most other nutritional supplements in that it will provide your body with the key nutrients that it needs to function properly. The nutrients found in the Ocuvite formula are believed to be critical for eye function. While your body will use these nutrients wherever they are needed most, making sure that you have enough of them will help to ensure that your eyes are getting everything they need to work as they should.
What are the Side Effects of Ocuvite?
The ingredients in Ocuvite are natural vitamins, minerals, and other nutrients that you should be getting as a part of your normal diet anyway, but often people do not get enough of them from diet alone. The Ocuvite products are simply supplementing those nutrients, so most people will not experience any type of unwanted side effects. As with any supplement, however, it is important to watch for allergic reactions or other potential issues. Some people experience an upset stomach after taking supplements like this, which is why it is recommended that you take the capsule with a full glass of water during a meal. As with any change to your health routine, it is a good idea to talk to your doctor or a CVS pharmacist to make sure that Ocuvite is a good option for you.