Colon cleansing is a common way to detox the body and eliminate waste from the gut. It has long been touted as a method to get rid of harmful toxins and make you feel more lightweight. Your colon can become clogged by several things such as a poor diet, being exposed to polluted or unhealthy air, and other lifestyle factors. A colon cleanse can be done at home and often comes in the form of a dietary supplement, liquid, or a powder format that can be taken by mouth.
Cómo conseguirlo
Recogida no disponible
Cambiar tienda
Mostrando 1-4 de
4 productos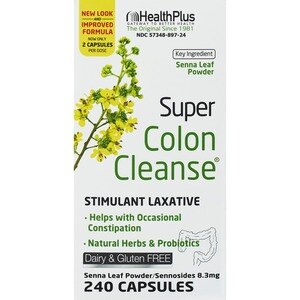 o
en pedidos de $35 o más.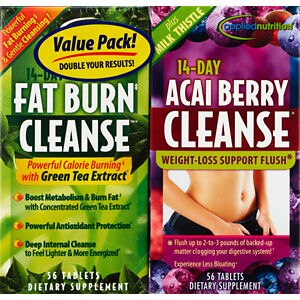 Applied Nutrition - Limpiador 14-Day Acai Berry Cleanse y quemador de grasa 14-Day Fat Burn Cleanse
Applied Nutrition
o
en pedidos de $35 o más.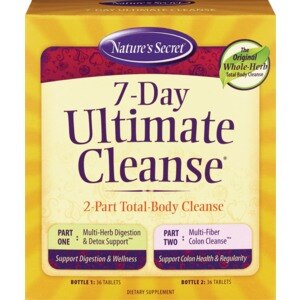 o
en pedidos de $35 o más.
Los precios en línea puede ser diferentes a los precios en tiendas.
Colon Cleanses
For some people, a colon cleanse is a necessity. This is most frequently applicable to people who are undergoing medical procedures like a colonoscopy. For others, they may choose a colon cleanse to "detox" their body or remove excess waste. Some forms of colon cleansing products include enemas, laxatives, herbal teas, certain enzymes, and even magnesium. Each of these products help the colon to expel its contents and remove waste that may be stuck to the colon walls. People with a clogged colon may experience symptoms like fatigue, bloating, weight gain, and unhealthy skin.
How Does A Colon Cleanse Work
There are two ways you can cleanse the colon. One way is to take a laxative or supplement, use an enema, or drink herbal teas that can release the waste found inside the colon. The other method is a process called a colonic irrigation. A healthcare provider flushes out the colon by sending gallons of water using a tube that is inserted into the rectum. While both methods are effective, there are some things to be aware of when undergoing any form of colon cleanse.
How To Do A Colon Cleanse
Your intestines are filled with billions of helpful bacteria that promote well-being and a balanced digestive tract. If you undergo a colon cleanse too frequently, you can eliminate these helpful bacteria and end up potentially getting sick. Your body has several ways to eliminate toxins naturally thanks to the kidneys and the liver. Some doctors claim that colonic irrigations can be especially dangerous. If you choose to use a colon cleanse supplement or laxative, you should only do so on rare occasion.
If you are constipated, a mild laxative can give you relief without the intense effects of a full colon cleanse. Consult with your doctor before you decide to use any colon cleansing products, as it may affect your body's ability to absorb certain medications. You should never use a colon cleanse product unless you have access to a bathroom. Always make sure you drink plenty of fluids, as a colon cleanse can cause dehydration and alter your body's electrolyte levels. Read the instructions on any product you purchase thoroughly. With proper use, a colon cleanse can offer plenty of positive benefits as long as they are consumed correctly.