Los miembros de CarePass
TM
Mostrando 1-12 de
12 productos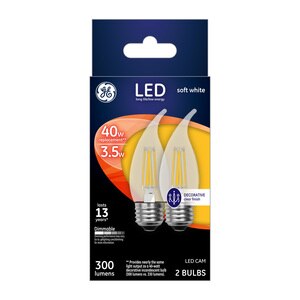 o
en pedidos de $35 o más.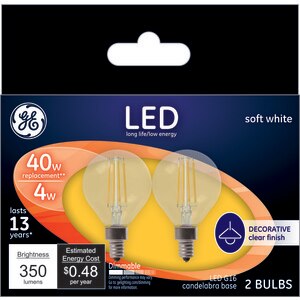 GE Lighting 40-Watt Reveal HD Light Blunt Tip Decorative Bulbs, Clear Finish, 2 CT
General Electric
Envío gratis con pedidos de $35 o más
GE Lighting 40-Watt Crystal Clear Blunt Tip Decorative Bulbs, 2 CT
General Electric
Envío gratis con pedidos de $35 o más
GE Relax HD Soft White 40W Replacement LED Frosted Decorative Globe Medium Base G25 Light Bulb (1-Pack)
General Electric
Envío gratis con pedidos de $35 o más
GE Relax HD Soft White 60W Replacement LED White Decorative Globe G25 Light Bulb (1-Pack)
General Electric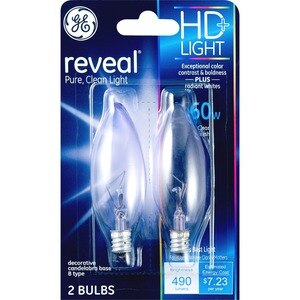 GE Reveal - Bombillas con base de candelabro tipo B, transparente, 60 vatios
General Electric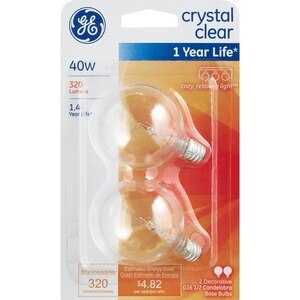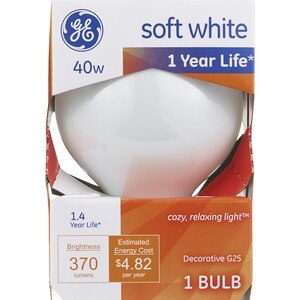 GE Crystal Clear Energy-Efficient - Bombilla tipo globo decorativo, 43 vatios
General Electric
Los precios en línea puede ser diferentes a los precios en tiendas.
When To Use Decorative Light Bulbs
Different types of light bulbs work best in different types of lighting fixtures. Some lighting fixtures have a unique design that puts the bulbs on display. Even in conventional lighting fixtures, vintage light bulbs can add style to an otherwise drab design. But using a decorative light bulb in a lamp or ceiling light isn't always a choice. Sometimes it's a necessity.
Quite often, lighting fixtures are made with sockets that are too small for the average lightbulb. For example, candelabra bulbs have a base less than half the size of a standard bulb. Track lighting might require a pin-type bulb. Floodlights often accommodate a bulb with a narrow base but a wide, flat end.
What Types of Decorative Light Bulbs Are Best?
HD lightbulbs are made to enhance different aspects of natural lighting to help set a mood or tone in a room. People tend to find the cool tones of subtle blue light energizing and invigorating, while a warm amber hue can make the environment feel more relaxing. When clarity and detail matter, the whitest of white light could be the best option. HD lightbulbs are a product manufactured by GE (General Electric). GE HD lights are LED.
Standard LEDs (light-emitting diode) produce light up to 90% more effectively than standard incandescent bulbs. Inside, an electrical current interacts with a microchip that illuminates the bulb. Unlike incandescent bulbs that cast light in all directions, LED bulbs provide directional lighting, meaning LEDs use energy and light more efficiently.
Are Decorative Light Bulbs Energy Saving?
LED bulbs and compact fluorescent lights (CFL) both offer a considerable reduction in energy consumption. The average LED bulb will last up to 60,000 hours. LEDs are often considered the more environmentally-friendly option because of how infrequently you'll need the change them. But your initial investment could cost more.
CFL bulbs also use far less energy than incandescent bulbs. They tend to cost less than LED bulbs, but don't last as long. The lifespan of a typical CFL bulb runs 6000 - 15,000 hours. If you're debating between your energy-saving options, you might want to consider the location of the bulb. Many people appreciate the convenience of putting long-life bulbs in hard-to-reach spaces.