Los miembros de CarePass
TM
Mostrando 1-3 de
3 productos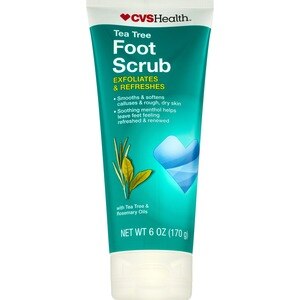 CVS Health - Exfoliante para pies con extracto de árbol de té
CVS Health
Los miembros de CarePass
™
precio
$5.43
Los miembros de CarePass
TM
Limit 6 per order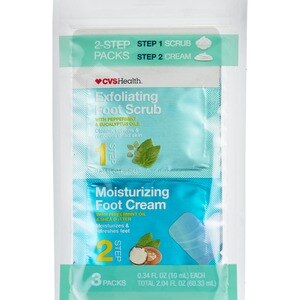 CVS Health - Exfoliante para pies y crema hidratante para pies
CVS Health
Los miembros de CarePass
™
precio
$7.99
Los miembros de CarePass
TM
Los precios en línea puede ser diferentes a los precios en tiendas.
As you manage your beauty routine, there is often one body part that is forgotten. The one that supports you all day and takes you on all of life's adventures--your feet. You are constantly on your feet, whether for work tasks or exercising or cleaning up the house. Because feet go through a ton of wear and tear and are subjected to more pressure than other body parts, they are one of the first places to show signs of skin damage. This can come in the form of flaking, peeling, callouses and more. It's time to sit down, take off those shoes and pamper those feet.
Why Use A Foot Exfoliator?
Regular exfoliation is recommended by dermatologists and podiatrists for keeping your feet in tip-top shape. If your feet are in decent shape and you don't have a lot of dry skin, you can limit exfoliation to once every two weeks or so. But if you suffer from callused or cracked feet, it's is recommended to exfoliate with a scrub and pumice stone once to twice a week. This will help to prevent hardened areas from building up further and help to regain foot health.
Types Of Foot Scrub
A foot smoother or pumice stone is ideal for working on the bottoms and back of your feet where you need to wear down tough calluses and smooth out your skin. They are easy to hold and take care of exfoliating in a matter of minutes.
Epsom salts serve many purposes for foot health and maintenance. You can use them to create a foot scrub that will help to remove the dead skin cells hanging around, but they also have pain and inflammation relieving qualities to soothe your tired and aching feet. So, your feet will not only look good, they will feel good, too.
Exfoliating creams are also good for not only exfoliating your feet and clearing away the dry skin, but also adding moisture that your feet need to keep them healthy and looking sandal-ready.
Everybody has experienced tired, aching feet after a long day of standing or walking. Don't just sit down to give your feet a break - invest in a good foot scrub and other products to ensure that your feet are in tip-top shape for your next adventure.
Búsquedas relacionadas