Mostrando 1-2 de
2 productos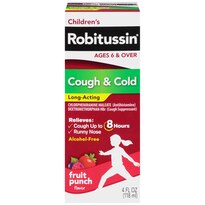 Robitussin
Compre 1, lleve 1 al 50% - ¡Agregue 2 o más para recibir la oferta!
Los precios en línea puede ser diferentes a los precios en tiendas.
When your newborn is sick with a cold, you want to do anything you can to help make sure they feel better fast. When it comes to infant cold medicine, there are some important guidelines to be aware of. As a parent, what can you do to help ensure that your baby feels better? Read below for some important information about babies and colds.
Baby Cold Symptoms
First, it's important that you recognize the symptoms of the common cold in your baby. Typically, a stuffy or runny nose is one of the first signs, and it usually begins thin and clear and eventually turns thicker and to a greenish-yellow color. Other common signs and symptoms can include unusual fussiness, coughing at night, sneezing, and a reduced appetite. Your little one may be fussier than usual as well and could have a difficult time nursing or taking a bottle since their nose is congested. If you suspect your baby has any of these symptoms, make an appointment with your pediatrician.
Home Cold Treatments For Infants
While you may be able to give your baby certain medications, there are also some potentially helpful at-home treatments you can try. First, elevate your baby's head to make breathing easier. You can hold them up with a firm pillow under a fitted sheet. Give your baby plenty of liquids including breast milk or formula along with water. Use a nasal tool designed to suck out mucus called a suction bulb. This device, when used with the saline drops, helps to loosen mucus in the nose and then remove it. A humidifier can be a great way to keep the air moisturized but check with your doctor to determine if you need to use a warm or cool mist style humidifier. If symptoms persist after a few days, it could be time to see your pediatrician.
Treating An Infant Cold Safely
As a parent, you want to do the right thing to ease your baby's discomfort. Fever reducers like Tylenol should not be given to babies under three months,, unless specifically directed by your pediatrician, and you should always check first before administering any kind of OTC medication to babies under one year of age. In addition, cold and cough medications are not recommended for kids under 2 years of age. Its important you always follow the manufacturer's dosing and age restrictions as well. Do not use mentholated rubs as these can irritate tiny airways and mucous membranes.
Búsquedas relacionadas