Mostrando 1-1 de
1 productos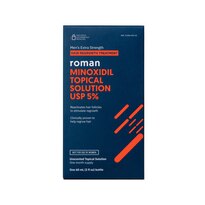 Los precios en línea puede ser diferentes a los precios en tiendas.
Minoxidil
Topical minoxidil is found in a solution or foam and is used to help generate hair regrowth in the treatment of male pattern baldness. The foam and two percent solution are also used to help generate hair regrowth in women with thinning hair. Minoxidil is not useful, and should not be used, to treat baldness at the front of the scalp or receding hairline in men.
Minoxidil belongs to a class of drugs known as vasodilators, usually used to treat high blood pressure when taken in oral form. It is not known how minoxidil causes hair growth, but it works well in the situations described, not for sudden or patchy hair loss, unexplained hair loss, or hair loss after giving birth.
Minoxidil formulas, such as Rogaine, typically take several months to take effect, if they are going to work on your hair growth. The growth lasts only as long as you continue to use the formula. Your hair will most likely begin thinning and hair loss will increase within a few months after stopping treatment.
How To Use Minoxidil
Before using a minoxidil formula, you need to clean and completely dry your scalp area. If you are using a solution, fill the applicator with 1 milliliter of medication, part your hair in the thinning area, apply the solution evenly to the affected area and rub it in. The solution should completely dry before using other styling products or going to bed. If you are using a foam, apply half a capful of foam to the thinning area and rub it in gently. This also needs to dry completely.
Minoxidil Side Effects
Minoxidil may cause side effects, though burning, stinging or redness at the application site may occur. In rare cases, minoxidil can be absorbed into the skin and cause serious side effects such as unwanted facial/body hair, dizziness, chest pain, fainting, fast/irregular heartbeat and more. You should consult with a doctor before using minoxidil and seek medical treatment if you notice anything abnormal after use.
It's possible to help achieve decent results with Rogaine and other similar products if you want to reduce the size of your bald spot. But results may take a while and last only as long as you commit to using the product. Most people need to use minoxidil regularly for four months to see any benefit and hair growth. It is not a quick, miracle process to regrow hair.
Búsquedas relacionadas
sauces, screwdrivers,  silver eyeliner