Los miembros de CarePass
TM
Mostrando 1-20 de
21 productos
o
en pedidos de $35 o más.
o
en pedidos de $35 o más.
o
en pedidos de $35 o más.
o
en pedidos de $35 o más.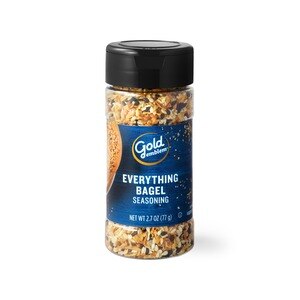 o
en pedidos de $35 o más.
o
en pedidos de $35 o más.
o
en pedidos de $35 o más.
Los precios en línea puede ser diferentes a los precios en tiendas.
Spices And Seasonings
Want to prepare delicious foods for yourself and your family? Spices and seasonings can enhance the flavor of recipes, making them even more delicious. Stocking up on the spices and seasonings that you need for your favorite foods doesn't have to mean heading to the grocery store. In this product selection at CVS, you can find a huge assortment of popular and specialty spices and seasonings you can quickly browse and buy online.
Basic Seasonings
At CVS, you'll find popular seasonings many people use daily in their homes. Table salt and black pepper are two commonly used seasonings often required for recipes and can be used after food is prepared to enhance its flavor. As its name suggests, table salt adds a salty taste to foods. Ground black pepper enhances the spiciness of dishes. Both salt and pepper are typically used in ground form. You can purchase these seasonings already ground or in whole form. Whole salt and pepper often comes in grinder bottles for easy dispensing.
Condimentos
Spices are used to add a new taste to foods, and there are many different types available. Some spices like ginger, nutmeg, and cinnamon are used in both baking and cooking recipes. Others like garlic powder and onion powder are typically only for cooking savory foods. Some spices are available in different size packaging, giving you the ability to buy a small amount for one-time use or to stock up on frequently used products.
Spice Blends
If you're looking for an easy way to season dishes, try spice blends. A spice blend contains two or more spices that complement one another's flavors. Often, spice blends are made for specific types of recipes or for a particular kind of cuisine. Por ejemplo, Italian seasonings often contain a mix of basil, oregano, rosemary, and other herbs commonly used as spices in recipes from Italy. You can find spice blends for Mexican dishes, Asian cooking, barbecued meats and poultry, and other popular foods.
Spice Flavors
Dried spices and seasonings aren't the only way to add new flavor to your foods. You can bring sweetness to dishes with honey or agave nectar or add a tangy touch with lemon or lime juice. Vinegar can bring a sour, bitter kick to foods. Oils can enhance the consistency and overall taste of meals and may be used for cooking or as a condiment.
What are Essential Spices?
There are many different spices that most people would consider essential. These are spices that are frequently used in most types of recipes. Some examples include things like salt and pepper. You may also want to have popular spices like oregano, lemon pepper, and garlic in your pantry at all times since they are used in so many different recipes.
How Long do Spices Last?
Spices can typically last a long time without going bad. Most brands of spices say that they will last a year before they should be replaced. Even after a year, however, most types of spices will continue to taste great and be perfectly safe to eat. Of course, if you are using fresh spices, these will taste best fresh and should be used right away. if you are using whole spices, wait until you're ready to use them before grinding them to ensure a fresh punch of flavor.
How to Organize Spices
There are many different ways that you can organize your spices. Many people organize them alphabetically so that they are easy to find. Other people organize their spices based on things that are often used together so that they are easy to grab while cooking. The important thing is to come up with a system to organize your spices in a way that makes sense to you so that you can always find the spice you need.
Búsquedas relacionadas
sal marina, garlic powder, moringa powder, turmeric powder, everything bagel seasoning, lemon pepper seasoning