Soportes para hombro y cuello
Cómo conseguirlo
Recogida no disponible
Cambiar tienda
Los miembros de CarePass
TM
Mostrando 1-9 de
9 productos
Cuidado de la salud en el hogar
Soportes para hombro y cuello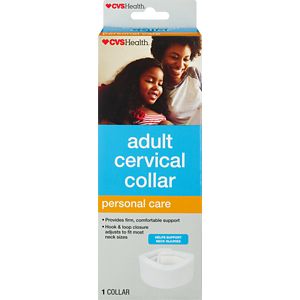 CVS Health - Collar cervical
CVS Health
Precio con CarePass
™
$13.59
o
en pedidos de $35 o más.
Neo G Shoulder Support, One Size
Neo G
Envío gratis con pedidos de $35 o más
Envío gratis con pedidos de $35 o más
Thermoskin Adjustable Sports Shoulder, Universal, One Size Fits Most
Thermoskin
Envío gratis con pedidos de $35 o más
Los precios en línea puede ser diferentes a los precios en tiendas.
Productos relacionados
Curad
HSA/FSA EligibleDual strap wrap-around wrist band provides customized support and helps weak or sore wrists. Designed for all-day wear. Fits left or right wrist. Inner comfort pad helps reduce mobility. Low profile design
CVS Health
Includes one 2.5" wide x 60" long roll VELCRO® Brand tab included Won't stick to skin or hair Latex and neoprene-free Washable and reusable Flexible 4-way stretch Latex and neoprene-free Unique foam technology Soft, comfortable, and breathable CVS Health Breathable ...
TeleShop
With 100% natural clay mud, our body wrap reduces your body's exposure to chemicals and pollutants. Helpful in moisturizing skin and removing toxins from fat cells when used weekly. Moisture-rich properties can fight cellulite and stretch marks. Get a spa-quality ...
Más productos relacionados
What are the Best Shoulder & Neck Braces Brands?
What Does A Foam Neck Brace Do?
A foam neck brace is used to make dealing with an injury or chronic illness easier and more comfortable. A neck brace can ease your neck and shoulder pain by limiting certain motions that may cause you more discomfort. Most neck braces are used during recovery from a sprain or strain, which are both very painful, and can make it challenging for you to complete your normal, daily tasks.
The CURAD + Cervical Collars + Universal Size is a great option for you if you are struggling with a painful injury or chronic illness. It helps to support your head and neck and can ease any discomfort you may be feeling.
What Does A Shoulder Brace Do? 
A shoulder brace is designed to give you extra comfort when dealing with a sprain or strain in your shoulder. There are many different types of shoulder braces that can help.
The Thermoskin Adjustable Sports Shoulder, Universal, One Size Fits Most is a neck brace that is specifically designed for those who may need extra support, but who still want to exercise and have freedom of movement. This brace is one size fits all and delivers extra comfort and protection while exercising to prevent any further injury. This brace will protect you and assist with soft tissue rehabilitation after an injury.
Neck Support
If an injury or chronic condition causes pain in your neck or shoulders, completing your everyday routine may be difficult. Fortunately, you can take steps to help reduce discomfort. Neck and shoulder braces can help ease pain by reducing your range of motion. CVS stocks a wide range of shoulder braces and neck braces in a variety of styles and sizes to suit every need. Shop the product selection now, make a purchase and have your new brace shipped right to your door.
Cuello ortopédico
A cervical collar is a brace that is shaped like a doughnut. The collar is designed to cover the entire neck and rest under your chin. Typically, cervical collars are secured by hook-and-loop fasteners. Once in place, a cervical collar limits how much you can turn your head. Some collars are made out of flexible foam, while others are crafted out of a combination of foam and plastic and metal. The addition of metal or plastic makes the cervical collar more rigid, allowing it to restrict movement of the neck more.
Shoulder Support
For shoulder pain and injuries, your medical provider may recommend a shoulder support. There are two main types: double and single. A double shoulder support covers both shoulders and the upper back. A single support fits like a sling, extending from one shoulder diagonally across the body. Some shoulder supports are designed to hold hot or cold packs for temperature therapy.
KT Tape
Athletic or kinesiology tape, known as KT Tape, may be used to support the shoulders during physical activity. When applied properly, athletic or kinesiology tape helps to provide light support for the shoulder joint. The tape is slightly elastic, making it possible for you to still move while wearing it. If you opt for athletic or kinesiology tape, ask your medical provider to show you how to properly apply it. KT is often used for shoulder pain and neck pain relief in physical therapy.
 Best Neck Brace
Before purchasing a neck brace or shoulder brace, be sure to consult your medical provider or physical therapist. He or she can discuss your injury or condition with you and recommend the best type of brace for your needs. A health care professional can also let you know when you should wear your brace and how long you can expect to need one especially if you have had surgery. Make sure to read the product descriptions carefully when shopping for shoulder and neck braces. Most products are designed to fit people of a certain size. You should measure yourself before you complete your order to ensure that you select a brace that will fit comfortably.
Búsquedas relacionadas
Soportes para brazo y codo, Medias de compresión, Soportes para pie y tobillo, Soportes para mano y muñeca, Soportes para muslo y rodilla, Soportes para cintura y espalda